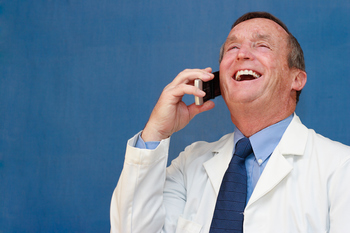 All Rights Reserved
The sheer effort involved in getting your loved one to the doctor's office can be pretty considerable -- and time-consuming. More and more medical practices are employing an option that can help eliminate some unnecessary visits, and it's worth checking into if you haven't used it yet.
Long-distance consults, either on special phone lines or via e-mail, are a good option when you have a question or are unsure whether an in-person visit is warranted. The newer twist is the level of expertise that staffs these options: They're often nurse practitioners (NPs) or physician assistants (PAs). These professionals have advanced training and work closely with doctors. They're qualified to assess symptoms, diagnose some illnesses and injuries, and provide some kinds of care.
Sometimes doctors handle phone line calls and e-mail questions, too. You may need to do some educating of your loved one. Many older adults are skeptical about not seeing a "real doctor." They may not be aware that nurse practitioners and physician assistants even exist, or they may be misled by their names, which don't give a complete sense of their extensive training.
The bonus of NPs and PAs is that they often have more time available to deal with patients, so they can provide more in-depth care for common problems such as urinary tract infections, colds, aches and pains, medication side effects, and other complaints that are concerning but don't necessarily warrant a doctor visit. You may be asked to come into the office after a phone consult, and if you see a nurse practitioner, you may find that you have more time than with the primary care physician.