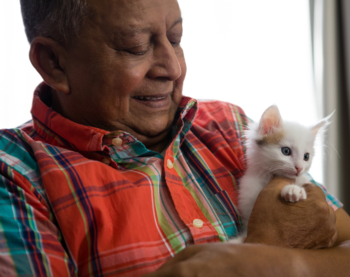 All Rights Reserved
The positive impact of pet ownership can be tremendous for senior citizens. Studies have shown that owning a cat or dog can improve both physical and mental health. Pets help seniors stay active, and there's evidence that they can reduce stress, help lower blood pressure and cholesterol levels, and improve overall heart health. In addition, pets encourage seniors to be social and may reduce feelings of loneliness and depression.
But before going out and choosing a furry companion, there are a few things to consider, including whether a new pet will match your lifestyle and temperament. Though having a puppy might sound fun, for example, they tend to require more work than older dogs that are calmer and often already trained. And in many cases, having a cat, rabbit, fish or other type of animal is more manageable for seniors than owning a dog.
Whatever type of pet you have your heart set on, adoption organizations have experts or programs geared specifically to seniors that can help you find the right match. Below are four of the best resources to consider when looking for a pet.
Petfinder.com
This organization provides a searchable list of adoptable pets in shelters across the country, allowing you to plug in search criteria to help you narrow your options to animals that best match your personality, lifestyle and location. Finding pets in nearby shelters allows you to visit them to make sure you're the perfect match. The online search allows you to take your time choosing pets, relieving you of the pressure to choose that you might feel if you were to begin your search in a shelter. To learn more, go to Petfinder.com.
PAWS
Located in Lynnwood, Washington just north of Seattle, PAWS provides shelter to adoptable cats and dogs as well as rehabilitation services to orphaned wild animals. In addition to its regular adoption services, PAWS' Seniors for Seniors program matches people over 60 with cats and dogs seven years old or older at a reduced adoption fee. "We wanted senior clients to know they are welcome to adopt. Many of them had animals most of their lives and understand the needs of a cat or dog," says Kay Joubert, director of companion animal services at PAWS. "We've also found these clients understand what limitations they might have—that helps to guide a good adoption match." To learn more about the Seniors for Seniors program, visit PAWS.org.
Adopt-a-Pet.com
With more than 12,000 animal shelters advertising their adoptable pets, Adopt-a-Pet.com is the largest non-profit animal adoption website in the country. The site allows you to enter your zip code and search criteria to find a cat or dog in a shelter near you. You can set up email alerts to let you know when new pets that meet your criteria arrive in area shelters. For more information, go to Adoptapet.com.
Best Friends Animal Society
Locations in Salt Lake City, New York and Los Angeles make Best Friends Animal Society the country's largest no-kill shelter (where health or treatable animals are not killed) for dogs and cats. After filling out an adoption survey, pet specialists at the shelter can work with you to determine which animal is best for you. If you find an animal you like but don't live near one of the locations, Best Friends can transport your new pet to your home.
The shelters put special emphasis on matching older pets with seniors through the Love is Ageless program. People 55 and older are only charged $5 to adopt a dog or cat that's at least five years of age. "Our staff always loves adopting a senior pet to a senior human," says Michelle Sathe of the Los Angeles-based Best Friends shelter. "Love is Ageless was created to encourage the adoption of senior pets, which are sometimes overlooked, and to also provide a cost savings for seniors who are usually on a tight budget." For more information, go to Bestfriends.org.