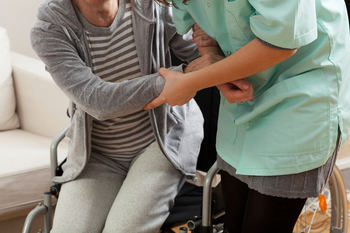 All Rights Reserved
Your loved one has been diagnosed with Parkinson's disease, and now you're grappling with a new set of challenges and concerns you may find yourself ill-prepared to handle. One big consideration is whether to hire in-home care help, and which type of home care will meet your loved one's financial and physical needs. As with many chronic and progressive illnesses, there is a continuum of needs for people with Parkinson's disease.
Parkinson's can impact people in different ways, and depending on the stage of the disease will require a different level of care and support. The first step in determining what type of care is most appropriate is to meet with various in-home care agencies.
Find-In-Home Care Near You -> Search Here
Here's what to look for when you're weighing your in-home care options for a loved one with Parkinson's disease.
Assess your care needs
In the earlier stages, people with Parkinson's may need more personal safety and companionship-type support services. Having a caregiver available to drive your loved one to medical appointments or social activities both ensures the person is still able to participate in activities that are necessary and fun, but provides respite to family caregivers so they can focus on other obligations or self-care when needed.
As the disease progresses, caregivers who have enhanced skills in personal care can assist with mobility, transferring, dressing, bathing and grooming.
Before interviewing potential in-home care services and providers, discuss individual needs and potential care circumstances with your loved one's physician and close friends or family members who may be able to provide some help with care.
Know your options for Parkinson's home care
There are a wide range of Parkinson's in-home care services available through in-home care agencies.
"Those include physical therapy, occupational therapy, speech-language therapy, nursing services?and home care aides," explains Susan Sender, RN, chief clinical officer for Amedisys, a national home health, hospice and personal care provider.
A registered nurse (RN) typically takes responsibility as a case manager assigned to a patient, and collaborates with a team of clinicians to provide individually tailored Parkinson's in-home care, Sender says. However, the level of care provided depends on the patient's health needs.
"Someone in the early stages of the disease may have a physical therapist, rather than an RN, assigned to implement a home exercise program designed to increase flexibility and strengthen muscles," she explains.
When scheduling interviews with potential in-home care providers, ask if they're able to provide care as the disease progresses, to maintain continuity for your loved one.
Determining where care should be provided is a very personal choice, Sender notes. "Because the time from diagnosis to end-stage Parkinson's can span more than 10 to 20 years, there are different needs at different stages. And caregivers need to be able to provide changing levels of care based on the progression of the disease," she says.
Additionally, it's important to recognize the needs of the patient's spouse or partner who may have their own physical limitations and reducing the home management requirements, says Sender. "It's important to ensure the family caregiver's energies are used with tasks that bring the most benefit to all," she says.
Meet and greet
The in-home care agency you choose should offer a complimentary in-home meeting for both the patient and family to share information about how their daily lives are impacted by specific Parkinson's disease symptoms, says Carla Sutter, operations director for Synergy Home Care, a large national in-home care franchise.
"Because symptoms of Parkinson's are not always apparent, it is most important to develop a plan for those days when the activities of daily living are their most difficult," Sutter says. This initial meeting is also a chance to discuss options and suggestions for your loved one's future care as the disease progresses.
Sutter says that since Parkinson's can cause shuffling of the feet and an unsteady gait, a large part of the initial visit will also provide consultation and suggestions in regards to home modifications you can make to lower or limit your loved one's risk of falling.
It's crucial that caregivers understand the different stages of Parkinson's and are able to follow the care plan to help manage symptoms.
"For example, exercise can be a key component in how well clients living with Parkinson's are able to function," says Sutter. But that doesn't necessarily mean just supervising your loved one lifting a dumbbell or doing leg raises.
"Ask if the caregivers also facilitate physical exercises that can improve gait, balance, and tremors, while maintaining flexibility," she advises. "And work beyond traditional exercises that help -- for instance, putting on some music and dancing or marching to the beat."
Checklist of questions to ask care providers
Sender urges asking potential in-home care service providers these questions:
Is the agency accredited? Agencies that choose to be accredited meet higher-level requirements than certification. However, most states do not require accreditation.?The three main accrediting bodies for home health are the Accreditation Commission for Healthcare (ACHC), the Community Health Accreditation Partner (CHAP), and the Joint Commission on Accreditation of HealthCare Organizations.
Family participation? Ask whether and how family members can participate in developing the care plan created for your loved one. Sender says family members should, if the?patient agrees, be included in a plan of care and have access to services for family caregivers around the clock. Medicare's Home Care Compare tool can help you compare the quality of care among the certified agencies in your area.
Specific care. Inquire about care providers' experience. "Any prospective Parkinson's in-home care provider and/or agency should have specialized expertise related to Parkinson's disease and how the case is likely to be managed," says Sender.
How much consistency is offered? Will the patient have the same therapist day in and day out or will they change? How long will your loved one be likely to need therapy? Sender stresses that continuity in care can greatly impact the patient's comfort level and success.
Time to move?
A family's individual support system can have a big impact on whether in-home care is the best option for your loved one with Parkinson's. As a result, Sender says skilled nursing facilities are more frequently used after an acute change in someone's health status and for shorter spans of time.
However, some couples choose to move together from their home into a senior living community that provides a Parkinson's-friendly environment like apartments and communities without stairs, downsized floor plans that require less maintenance, handicapped accessibility and other features.
Senior living communities also offer on-site social activities and dining for both caregiver spouses and those living with Parkinson's, minimizing the added burdens that having to travel to activities or to the grocery store can create for someone dealing with the side effects of Parkinson's disease. "Parkinson's in-home care services can be incorporated into these communities for a few hours a week to 24 hours a day," says Sender.
If a patient lives alone or their family members or a home care agency are unable to provide a protective environment, Sender says a skilled nursing facility may be the right choice.