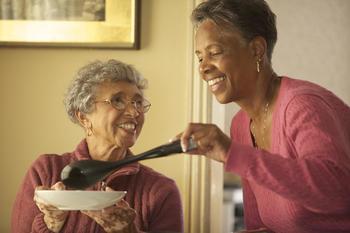 All Rights Reserved
Start with the basics to make dietary changes
Change is hard at any age -- and it gets harder as we age and get set in our ways. Yet someone dealing with a chronic condition such as type 2 diabetes or heart disease may be able to avoid a health crisis by improving her eating and exercise habits and making other lifestyle changes. Of course, she first needs to be ready and willing to change.
Here are some ideas to help you and the person in your care get started on dietary changes.
Keep a record.
Before a person begins to make changes, she needs to have an honest account of what she eats and when. It's easier to find patterns -- like that 3 p.m. craving for something sweet -- when there's a written log of everything that's consumed in the course of a day. She should carry a food notebook so she can easily keep track of what she eats, and then figure out what unhealthy habit she wants to confront first.
Look for small ways to break big (unhealthy) habits.
Maybe her whole diet needs a major makeover. That's not going to happen overnight. But find one thing she might be willing to do to eat better and start there. Perhaps she'll agree to add green vegetables to dinner. Or cut down on saturated fats at each meal. Or work fresh fruit into her food choices. Take it step by step.
Set realistic goals.
If she mostly eats fast food, she's not about to become a farmers-market fanatic just because you tell her she needs to eat better. Instead, ask her how she could improve her diet and then help her come up with a clear plan to make it happen. Say something like, "Let's eat a home-cooked meal together twice a week" -- and, if necessary, offer to get the groceries and whip up something for dinner that's delicious and nutritious. Such a proposal is specific and doable.
Develop your strategy for dietary changes and reinforce healthful behavior
Be prepared.
It helps to plan ahead to avoid unhealthy eating. Say the person in your care is going on an outing where fast-food outlets may be her only option -- pack a healthy lunch instead. Likewise, if she's meeting family or friends at a restaurant for a meal, call ahead or check out the menu online so she has a few healthy dishes in mind before she walks through the door. At holiday gatherings, she could bring her own good-for-you food to share, scout the buffet table for the healthiest offerings, or eat ahead and enjoy the festivities without having to deal with poor food choices. With some trial and error -- and your help -- she can figure out strategies that work for her.
Individualize the game plan.
First, you need to help her figure out what trends she wants to tackle on the dietary front. Does she eat larger portions than she needs? Does she eat the worst things in her diet late at night in front of the TV? Is she a grazer who nibbles all day and never realizes how much she's consuming? Does she skip breakfast? (People who skip breakfast tend to be heavier than those who don't.)
Next, you'll figure out how to use strategies that take into account her personality and greatest challenges. She can seek the help of a registered dietitian (or her diabetes educator, if she has one), to learn about healthier eating habits.
Figure out ways to manage cravings.
Help her find healthier ways to handle food cravings. With some tweaks, she may be surprised to discover she can enjoy some of her favorite foods -- in moderate portions -- without guilt. If, for instance, she's crazy about carbs, she could switch to whole-grain rice and pasta, which are a more fiber-rich alternative to their white counterparts and raise blood sugar more gradually -- or she could mix the two at first so she gets used to the change.
If she craves something sweet, ioffer some nutrient-packed and fiber-filled, naturally sweet treats in the form of dried mangoes, dates, apricots, peaches, plums, or raisins. A fried-food fiend might be content with oven-roasted, lightly oiled veggie sticks such as sweet potatoes or carrots instead of French fries. They're crispy and crunchy but contain much less fat and salt than standard potato chips or fries.
Reward success for making dietary changes
No matter how small the changes, give positive feedback.

Everyone needs encouragement to make changes, and older adults are no exception. So give the person you're caring for plenty of support and positive feedback, and find ways she can treat herself when she reaches a previously set goal.
Anything healthy that makes her happy will work. Maybe it's a trip to the movies after a week of eating well. Or perhaps it's a new outfit after shedding five to ten pounds. Even small rewards for modest daily goals are a good idea: Maybe she can dip into that book she loves every time she forgos candy and reaches for a piece of fruit instead. Little bonuses along the way to big goals can help keep her motivated.