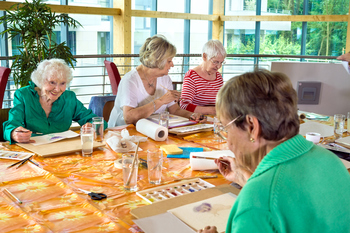 All Rights Reserved
One variation on Managed Care plans that acts as a Medicaid alternative is the nationwide PACE program. The San Francisco-based On Lok program that provides housing, long-term care and programming for the area's senior population led to the development of the larger PACE program. The program aims to keep seniors who normally would require placement in a skilled nursing facility a chance to stay in the wider community by providing a breadth of interdisciplinary services.

By utilizing adult day health care programs, PACE integrates social and medical services. Those enrolled in PACE programs have their care overseen by a multidisciplinary team, which can include doctors, nurses, social workers, nutritionists, occupational and speech therapists, as well as health and transportation workers. Enrollment in a PACE program sometimes requires the payment of a monthly premium. View a full listing of PACE programs nationwide here.
What it Covers
PACE enrollees receive all health services through PACE, including doctors' services, hospitalization, therapies, pharmaceuticals and equipment along with:
Adult day health care
Medical care provided by a PACE doctor along with specialists
Home health care and personal care
Prescription drugs
Social services
Respite care
Hospital and nursing home care when necessary
Hospice care
Eligibility and Qualifications
Coverage is available to persons who are: 55 or older
Certified by their state to need nursing home care
Able to live safely in the community at the time of enrollment
Living in a PACE service area
Note: Individuals interested in enrolling in the PACE program can be eligible for both Medicare or Medicaid. However, PACE enrollment's primary qualification is one's health status rather than age or income level.
Trends In Reimbursement
In certain counties, Medicaid recipients are required to enroll in Managed Care programs. The reasoning behind this trend is to keep the cost of services low to the provider by contracting and centralizing all medical needs. It also means consumers are not given a choice. This change is occurring on a county level for now, but as it gains popularity may become more prevalent.