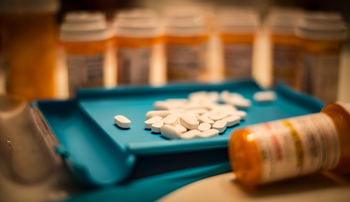 All Rights Reserved
As many seniors suffer from chronic pain conditions, they can be more at risk of addiction to opioids than you might think.
The Opioid Crisis has reached every corner of the U.S. in recent years, killing tens of thousands of people each year. In some areas first responders race from call to call for overdoses; the National Institute on Drug Abuse (NIDA) estimates that 115 Americans die every day from overdosing on opioids. The federal government has struggled to respond as the crisis mounts. And seniors can be particularly vulnerable to developing an addiction to this dangerous substance.
What's going on?
The crisis has largely grown from doctors prescribing opioids like OxyContin much more frequently beginning in the mid-1990s under assurances from pharmaceutical companies that opioid pain relievers were not as addictive as previously thought. In fact, such drugs can be incredibly addictive, and many patients who were prescribed opioids for pain ended up abusing the drugs and developing an addiction, even switching to illegal drugs like heroin.
According to NIDA, 21-29 percent of patients who are prescribed opioids for chronic pain misuse them, 8-12 percent develop an addiction and 4-6 percent transition to heroin.
Since the roots of the epidemic lie in the over-prescription of opioid medications for pain, seniors, many of whom suffer from chronic pain from a variety of conditions, can actually be at greater risk of developing an addiction than younger adults.
Statistics indicate that opioid addiction has been growing as fast or faster among seniors compared to other age groups. The rate of hospital stays related to opioid overuse has grown dramatically over the last 25 years. According to a 2014 report by the government Agency for Healthcare Research and Quality, the rate of hospitalization for opioid overuse among people 65 and up increased five-fold from 1993 to 2012, from 97.1 per 100,000 to 496.1.
Over the same period, Medicare was the fastest-growing method of payment for hospital stays related to opioid overuse, increasing an average of 10.6 percent each year from 1993 to 2012, when Medicare was used to pay for about 30 percent of such hospitalizations.
With the risk of addiction so prevalent, it's important for loved ones and especially caregivers to be aware of what drugs your aging loved one has been prescribed, keep an eye out for warning signs of addiction, and know what to do if you start noticing these signs.
Experts stress that there are effective alternatives to opioids to relieve and manage pain, so it's best to take steps to make sure that you and your aging loved ones are getting the most sensible care.
How to prevent addiction
First, it's important to be aware of the risks of addiction and know what your loved ones are being prescribed. "One of the biggest contributors to the problem in the first place was the lack of education," said Alexia Touboul, the clinical director at Banyan Treatment Center, a rehabilitation facility with six locations nationwide.
Touboul points out that since many doctors were either unaware of the addiction risks or disregarded them when prescribing drugs, they failed to communicate these risks to their patients. For any prescription drugs, caregivers should be aware of what they are, any potential side effects and the medication's potential for addiction.
Some doctors are still recklessly prescribing opioids and not taking the addiction potential into consideration, Touboul said. She recommends talking to different doctors for advice, asking around about alternative pain management plans and keeping in mind that opioids are not the only option for relief.
"It takes research and advocacy on the part of the caregiver because the doctor is not going to do it for them," Touboul said.
Having worked with family caregivers before, Touboul acknowledged how taxing the role can be emotionally, physically and psychologically, and said worries about addiction can add another layer to an already exhausting job. "I would encourage them to not try to handle any of this alone," she said. "Seek out resources, seek out professionals, seek out other loved ones to assist in this process."
Warning signs
It's not always possible to avoid opioids, so if your loved one is using a prescription opioid for pain management, it's important to keep an eye out for warning signs of overuse and abuse.
Kent Runyon, vice president of community relations at the Novus Medical Detox Center in New Port Richey, Florida, outlines a number of red flags to watch out for. Runyon travels the country giving lectures on the dangers of substance abuse for older adults and is set to present at the 2018 6th Annual Southeastern U.S. Regional Drug Prevention Summit in Tampa on Feb. 20.
"No one of these are an absolute, but if you start seeing enough red flags it should be a cause for concern," Runyon said.
Warning signs of opioid addiction include the following.
A loss of interest in hobbies or pleasurable activities, particularly if your loved ones had activities they engaged in frequently but suddenly stopped
Signs of intoxication such as red glassy eyes or slurred speech
Changes in hygiene
Weight loss
Chronic and unsupported health complaints, apparently due to desire for more medication
Changes in mood, such as becoming more hostile or depressed
Memory loss or confusion
What's more, some life circumstances may put older adults at greater risk, such as the death of a spouse, pre-existing anxiety or depression or a history of drug use.
"This is the generation that was raised through the 60s, so many within this generation may have used drugs as a youth," Runyon said. "It might not be a huge leap for them to use drugs in that last chapter in their life."
It's also important to stay engaged in seniors' lives, Runyon said, as older adults are frequently aging in isolation, either living alone and seldom leaving the house or in nursing care, where they are often separated from family. "We need to be thoughtful of the risks associated with loved ones in isolation," he said.
How to take action
Once you've noticed the warning signs, Runyon says families may need to reassess their attitudes about drug use.
For example, some may think that drugs are keeping the person comfortable, so if they're happy, why rock the boat? But, he says, this assumes that living with the addiction is a good quality of life, when often it can lead to further health impacts or emotional ones, such as from shame or fear of embarrassment.
If you think that an older adult in your life could be at risk from addiction, it's important to check in with them to discuss it, as well as checking in with other people they're interacting with to see if they've noticed any red flags.
Gathering information is important, Runyon said. He recommends identifying all of the doctors and specialists who are treating the person as well as the trusted relationships in their lives, like a pastor in church, friend or physician. He also advises identifying what the person cares most about, such as their grandchildren, reputation, health or money.
Among those who know and trust the person, list out the warning signs you've noticed, and compare notes to see if they've noticed them too or they have any to add.
When you're ready to act, pick a time when the person is least likely to be intoxicated. When you address it with them, it's best to be direct but not confrontational, instead using a gentle, empathetic and thoughtful approach. Try to avoid using shame as a motivator and avoid labels like "addict."
This will likely be challenging, and one conversation isn't likely to result in change. Plan on a series of conversations to get them to take action, but also know that it may not be effective if the person in question is unwilling to get help – consider that the drug abuse may have left them with cognitive impairments, including denial. Be ready to help as soon as they decide they're ready.
What comes next?
After an initial confrontation, there's a wide range of possibilities for recovery. Some people may be able to stay home, but others will need to go to an inpatient detox facility as they cope with withdrawal symptoms.
Runyon says there are great programs throughout the country specializing in helping older adults with addiction. In his own facility, he says they strive to provide a personalized level of care.
"We work to get to know every patient," he said, working to address the underlying issues that led to the addiction in the first place.
What opioid alternatives are available?
Avoiding opioids isn't always so simple, as many people still have chronic pain conditions that need relief. Jonathan Kamerlink, who runs the Kamerlink Pain Institute in Boca Raton, Florida, says that the opioid crisis has been a wakeup call that it's time to examine new methods of pain management.
"In the last 30 years, we have become dependent on opioid medications as a primary solution to pain control," Kamerlink said. "Many older Americans were sold the notion that their pain could be totally relieved by various modalities, when in reality the discussion should have been about managing their pain."
Most chronic pain conditions can't be relieved entirely, but can be managed with non-opioid medications, physical therapy and other techniques, Kamerlink said.
It's important to talk to your health care provider about ways to manage pain that do not require prescription opioids to find the option that's best for you or your loved one.
If you or someone you know is suffering from opioid dependence, you can find treatment facilities near you at the Substance Abuse and Mental Health Services Administration's website or by calling SAMHSA's National Helpline at 1-800-662-4357.
In the event of an overdose, call 9-11 for emergency medical assistance.