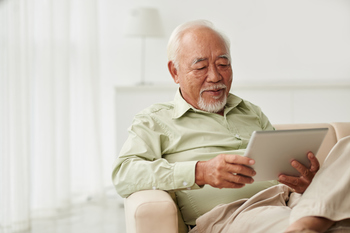 All Rights Reserved
Scams are nothing new. Unscrupulous individuals have been trying to swindle trusting folks out of their hard-earned money for centuries. But with the proliferation of new communications technology, scammers have access to a much wider array of methods to confuse and deceive their victims. They tend to target the most vulnerable people they can, which often means going after senior citizens.
Since they didn't grow up with the Internet and don't tend to be as savvy with it, older adults who use the Internet can be particularly vulnerable, and as it turns out, that accounts for almost all of them.
A recent survey of more than 1,000 North American seniors conducted by national in-home care provider Home Instead Senior Care found that almost 97 percent of people who are 70 and older use the Internet at least once a week.
Home Instead's research further showed that 41 percent of seniors do banking online, 26 percent pay bills online, 21 percent file taxes online. Most had been targets of scams, including 9 percent who said they had been victims of scammers posing as IRS agents demanding they pay taxes.
So what can seniors and those close to them do to protect against online scammers? Below are some simple precautions to keep in mind when approaching the Internet as an older adult.
1. Get educated
Everyone working to protect seniors online agrees that education about using the Internet in general and how to protect yourself is crucial to staying safe online.
"Education is the best line of defense," said Judi Jacobs, who founded The Tech Wizard, a Los Angeles-based business that provides group technology classes and one-on-one training tailored to people over 50.
"I have seen how arming them with the foundational knowledge of technology provides seniors confidence when online and takes away the fear of 'feeling stupid' when it comes to technology," Jacobs said. "Education needs to be ongoing, as it is harder for them to retain the information unless it is repeated and used and to help them adapt to [updates, changes, or new devices]."
There are resources and classes all over the country that provide this kind of education to seniors. AARP also provides numerous resources to assist seniors with digital security.
2. Think critically
Steve Weisman, a professor at Bentley University and the author of "The Truth About Avoiding Scams," stresses that people need to think critically and take their time when confronted with a request for personal information, slow down and verify who's making the request.
"People have to be particularly skeptical and careful even when they verify," Weisman said. But scammers can be particularly clever in getting people to trust them, or in making a frightening enough threat that they'll turn over personal information.
One such threat is scammers who will ask for social security numbers to renew Medicare registration, a worrying prospect for seniors with chronic health issues who rely on Medicare. Weisman said it's important for people to remember that Medicare would request any necessary information through regular mail, and not by email, text message or phone call.
3. Test yourself
Even if you think your skepticism is spot-on, there are online quizzes that can test you against some common scams to gauge whether you're likely to get suckered. Home Instead provides a resource page to help seniors avoid online scams, including a quiz, " Can You Spot an Online Scam?"
"We wanted to provide free resources to family caregivers to prevent some of the more common scams and threats that they face online," said Georgene Lahm with Home Instead. She said engagement in the quiz is very high, indicating that people know they're vulnerable and are working to educate themselves.
There are plenty of other online quizzes to test your susceptibility to online scams, including this one from AARP.
4. Pay attention to social media privacy
Weisman, who also writes a blog called "Scamicide" that tracks various common online scams, says that some scammers can use innocent-seeming personal information gleaned from social media to trick seniors into giving them money.
One such scam is the "grandparent scam," which targets seniors late at night with phone calls indicating that their grandkids might be in trouble. The scammers call pretending to be the grandkids and might say their car broke down or that some other catastrophe happened and ask the grandparents to wire them money.
To sell the scam, they'll use social media to find out the name of the grandkids and whether they call their grandparents "nana" or "papa," "grandma" or "grandpa," by looking at photo captions, for example.
Because of that, Weisman said it's important for people using social media to make sure their privacy settings are high so that this kind of innocuous information that could be exploited by scammers doesn't get out.
5. Keep software up-to-date, especially antivirus
Another potentially overlooked security point for seniors is antivirus software and keeping software updated. Software updates often carry important security fixes, and without them, hackers and scammers could be able to exploit your computer or phone.
In teaching her classes at the Tech Wizard, Jacobs said she finds that seniors often go without important software updates.
"They are afraid to use new technology and thus, rely on old technology or get hand-me-downs from their kids or friends," Jacobs said. "They are afraid to do updates because they are suspicious it is dangerous or will change things and they won't know what to do."
Home Instead's research found that about 20 percent of seniors go without antivirus software and 28 percent have mistakenly downloaded a computer virus.
While it's important to take precautions to prevent unintentionally downloading a virus, such as not opening email attachments unless you know the sender or not clicking links from pop-up ads, it's also important to make sure that your antivirus software is installed and up-to-date.
Newer versions of Windows come with Windows Defender, which once enabled, will run in the background and only alert you when it notices a problem. Some reviewers have found Windows Defender lacking in protection, so you may want to start with a free alternative like Avast, BitDefender or Avira.