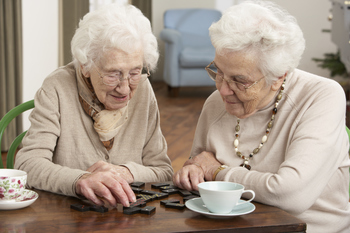 All Rights Reserved
President Barack Obama on Tuesday signed into law the Older Americans Act Reauthorization Act of 2016, pledging the government's commitment to fund a host of programs that support seniors' health and well-being.
The law helps seniors stay in their homes and communities by funding services that allow them to maintain their independence – programs like Meals on Wheels, transportation services and assistance for family caregivers. Under the newly reauthorized law, there will be a 6 percent increase in funding to senior programs over the next three years.
Some key programs earmarked for funding under the act include meal delivery to homebound seniors, elder abuse prevention training for aging industry professionals, modernization of local senior centers, and financial support for seniors caring for adult children with disabilities.
"For more than 50 years, the Older Americans Act has helped people live the lives they want, with the people they choose, throughout their lives," said Kathy Greenlee of the Administration for Community Living, a division of the U.S. Department of Health and Human Services.
"Through the aging services network, it has helped older adults continue to work, play and volunteer in their communities, to the great benefit of all."
The reauthorization of the act, which was last renewed a decade ago. stalled for several years in Congress, concerning many older adults and their advocates who rely on the services funded under the legislation.
The National Council on Aging celebrated the act's renewal this week, calling it "long overdue."
"Now, we need the same bipartisan support of long overdue investments to ensure that this important legislation can meet the needs of our rapidly growing and diverse older adult population," NCOA Vice President for Policy and Advocacy Howard Bedlin said in a news release.