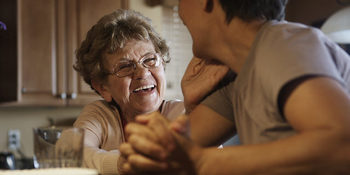 All Rights Reserved
At 94 years old, Filomena "Phyllis" Sabatini is still going strong. The beloved grandmother who captured hearts in the documentary, "Nine to Ninety" is as cheerful and appreciative as ever, even after losing the love of her life, Joe Sabatini, in 2012.
The documentary, which aired on PBS and earned nominations and top honors at numerous film festivals, features the then-89-year-old, her late husband Joe and their adult children and grandchildren. With her unrelenting positivity, frequent jokes and insistence on living life to the fullest – as well as on broaching tough topics like her own future funeral arrangements with her adult daughters – Phyllis is the focal point of the film.
The documentary ends on a sad note after Phyllis and her husband decide to live apart to help ease the burden on their adult daughters of caring for them. After filming wrapped, Joe Sabatini passed away.
The nonagenarian says that she misses her husband, and that while "it was a very tough decision" to live apart from him (he moved into a board and care home near their younger daughter while Phyllis moved across the country to live with their other daughter and son-in-law), it was the best decision for her family at the time.
These days, Sabatini is focused on her daughters and granddaughters and on making the most of each day as the family enters a new chapter.
Since the film's debut, Phyllis moved back to the Los Angeles area where she now shares a home with her older daughter and son-in-law and regularly sees her two granddaughters. Though the living arrangement can be challenging at times, Phyllis's daughter Angie Vizza says, the family is grateful to be together, and Phyllis is still doing well.
"You gotta keep going – if you don't keep active at my age, it's not healthy," Phyllis says.
Among other activities, Sabatini still takes to the sidewalks of her new neighborhood with her walker each evening for a walk, just as we see her do in the documentary. She also regularly attends her teenage granddaughter's school events as well as dances and other social events at the local Italian club. Whenever the song "New York, New York" comes on, she gets up and dances, she says.
Another thing that makes Sabatini smile is the response to "Nine to Ninety."
"I couldn't get over seeing myself on the big screen," she says.
Angie and her daughter Juli Vizza, who produced "Nine to Ninety," say the response to the film has been heartening. At screenings of the documentary, she says she often gets hugs from viewers who share similar situations that they're experiencing with their own families and who say the film inspired them to go and call their own aging parents.
"People can usually relate to some experience our family is having, even though we felt like we were having all of these experiences in a vacuum," Vizza says. "It's just been amazing to hear people's stories."
She says she hopes people who watch Nine to Ninety continue to share their stories and that it inspires them to start conversations about end of life care and other tough topics with their own families.
"The more you talk about it, it makes it easier to figure out what you want, and you actually might find that you're more on the same page than you thought you were," says Vizza.
The Vizzas say the experience has pushed them to get the ball rolling on tough-to-tackle topics like Phyllis's future care and for their own eventual senior care needs.
Though their move has kept them busy, Angie Vizza says the family has a goal of tackling legal arrangements such as living wills and funeral plans by the end of the year.
Just as she was in the film, Phyllis is still a big proponent of broaching difficult conversations sooner rather than later.
She says it's important to make legal arrangements before a medical emergency or death occurs and to ensure that adult children aren't left wondering what to do.
"I invite everybody to do it if you can, because you just never know," she says.
Anyone who would like to see "Nine to Ninety" or hosting a community screening of the film is encouraged to visit the filmmakers' website or to email them at Josie@ninetoninetymovie.com. In addition to getting people together to watch the film, the screenings are meant to be a chance to discuss related topics with fellow audience members such as health, end-of-life issues, family dynamics, caregiving and financial concerns.
---
In the following video, the family shares an update on what they're up to now.
What's Next from Nine To Ninety on Vimeo.