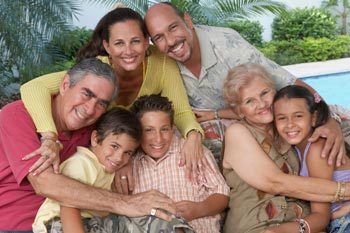 All Rights Reserved
New Cities is all about intergenerational living. What's that? It's when our homes and communities are integrated -- from babies to centenarians, including a mosaic of cultural and ethnic influences to create a diverse landscape that meets the needs of all who live there. Think old-world village with all the technology and innovations that make our lives easier today. New Cities established the Boomer Futures Think Tank, featuring leading authorities on gerontology, demographics, sociology, psychology, healthcare, environmental studies, law, architecture, design, transportation, and engineering.
What New Cities learned is that boomers want to be close to nature. They want walkable cities and good public transportation. They want to be close to their children, grandchildren, and friends for as long as possible. They want affordable housing with progressive architecture and barrier-free designs. They want to learn, to give back, and to continue to be a vital part of their communities. Most of all, they want to leave a legacy and live meaningful lives. The work New Cities is doing can change the American landscape. The group shares its findings freely and is willing to evolve and take an honest look at the needs and desires of the aging population.
Dennis Domer, New Cities project director, and John Shreve, PhD, have been involved since its inception, and they spoke with us about this exciting project.
Dennis, tell us a little about how the New Cities project got started.
Dennis Domer, project director: Lee Foster, owner and principal of Commons Development Company, asked, "What kind of residential housing and lifestyle will baby boomers want when they retire?"
It started with Foster's question, which fit well with John Shreve, one of my current colleagues and former Ph.D. students, whose interest was in aging and architecture. We decided to answer it from an interdisciplinary perspective: architecture, American studies, gerontology, law, film, literature, history, transportation, engineering, technology, social welfare, sociology, psychology, and so forth. We knew that aging connected to all people and probably to all disciplines, and that turned out to be the case.
What are people saying they want in terms of a housing community as they age? What are their concerns?
DD: We started with an interdisciplinary colloquium between American studies and architecture and brought in about 15 speakers, from outside the university and inside the university, to address aging from their disciplinary perspectives. People for the most part seem to want to stay home as long as possible -- age in place -- which is not so easy anymore, since most American houses are not set up any longer to deal with older people or with more than one generation. The natural neighborliness that was a part of American culture has faded with the development of suburbs. That neighborliness was a function, to a large extent, of intergenerational dependencies that have been built into the social fabric and especially family structures over thousands of years.
The new American family is quite different -- partners, no kids, never married, etc. How will this affect their aging needs and how would they fit into an intergenerational community?
DD: We've never had a more diverse generation than the boomer generation, and the next generation even more diverse, and so on. Singles, divorced people with children, with no children, gay couples with children, with no children, single mothers, single fathers -- intergenerational communities can actually be a wonderful place to forge new relationships and, in a sense, a new family. Let's face it, the blood relationship doesn't always work -- but because we have variability, we have enough people (77 million) to find a niche, a community that will work.
John Shreve, as a PhD student who has been with New Cities from its inception, tell us what you've learned.
John Shreve: I'm a mid-career student and I am witnessing that my parents are at a stage in their life where they must consider aging in place and other options, so this means something to me personally. We came to New Cities not professing to know anything about aging. We simply had questions, and we brought people into our forum and opened the gates. We invited individuals, boomers, families, elders, and we invited different private companies from all sectors -- designers, engineers, the medical community, city planners, etc., and what we've discovered is there is a lack of choice when it comes to how we live and age.
As an architect, I look at what the real solutions are for the aging population. We have retraced some of our historic heritage back to the village model -- even housing and lifestyle needs. A challenge we face is that we would have to change the formula in regard to banking and other commercial developers and city planners -- and we are beginning to have those conversations. We have quite a number of developers who are interested -- New Cities has a real draw. Yet culture change is hard. When it gets down to money -- millions and millions of dollars -- that's a very different conversation. Bankers are careful these days.
Tell us about the Boomer Futures Think Tank.
DD: The Boomer Futures Think Tank has been going for four years. It features leading authorities on gerontology, demographics, sociology, psychology, health care, environmental studies, law, architecture, design, transportation, and engineering. People come regularly from as far as St. Louis to hear our speakers, but generally we have an audience from Lawrence, Kansas City, Topeka, and other cities around Lawrence. We get academics, technologists, business people, healthcare and aging professionals, students, and others.
We have placed all the lectures on our website, and we have live-streamed the talks from the last four sessions. We are eager to share all the knowledge we have. We have never allowed any of this information to become proprietary. We can do these think tanks from about anywhere, and we considering moving the think tank and New Cities 1.0 to another location, thereby creating New Cities 2.0 and allowing the program to expand and grow in a new setting so that we can take advantage of new sponsors, supporters, new audiences. New Cities 2.0 will gain a lot from a more urban setting.
What is an intergenerational community and what does it look like?
DD: An intergenerational community integrates people of all ages, conditions, races, and socioeconomic circumstances rather than segregating people along those lines. It especially integrates seniors. It creates landscapes that encourage people of different ages to come together through intentional programming for those landscapes. An intergenerational community integrates skilled nursing and memory care into the community through decentralization and housing that is fully typical of all other housing for people and especially does not stigmatize them. Houses and housing in this community must be designed for aging in place. All living units must be poised for the future of home healthcare services through technology and infrastructure that allows for much of our healthcare to be managed at home. Communities have to look fairly normal for the American building culture, but some boomers seem to be open to more modern alternatives.
What can boomers, caregivers, and the aging population do in practical terms to better their own lives, in particular their housing and communities, right where they are?
DD: The most important thing they can do is create intergenerational programming that brings the generations together in many ways. Take a look at Generations United for this kind of programming, and at Georgetown, Texas. That's called the Georgetown Project, which has built nothing physical, except for stage sets at the city theater, but has concentrated on the human fabric of intergenerationality by focusing on kids and building partnerships with a myriad of city and county institutions, clubs, organizations, and churches who themselves build a specific intergenerational program to contribute to the whole process. This town is on fire. However, they've worked for 17 years. Change doesn't come easily, which is what a lot of people want. Life is in the making. Creating a meaningful life is the main goal that people, young and old, should try to achieve.
What's the good news? What changes have you/New Cities seen?
DD: The good news is that New Cities is evolving. It can be sponsored by many different institutions and in many different places. We have raised the consciousness about aging and the effects of intergenerational living. Nothing, absolutely nothing, has a more positive effect on children than the intergenerational experience. People are talking about this in Kansas City, Topeka, Lawrence, Manhattan, St. Louis, in informed ways. We have brought down some silos at the university and between the university and the public, especially with caregiving professionals and commercial enterprises. But it's a long-term project, and that's one of the most important pieces of good news. There is plenty of work to do.
New Cities and the Boomer Think Tank videos are available on YouTube:
* Generations United: http://www.gu.org
* The Georgetown Project: http://www.georgetownproject.org