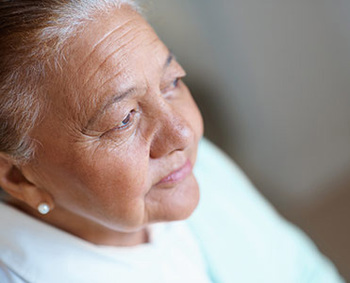 All Rights Reserved

With 10 percent of community-dwelling older Americans estimated to have experienced some form of elder abuse in the past year, elder abuse is far more common in our society than many of us would ever guess. The combination of vulnerable victims and perpetrators in some position of power has made elder abuse, in some ways, an invisible crime. Dr. Georgia Anetzberger is the president of the National Committee for the Prevention of Elder Abuse (NCPEA).
Tell us about the NCPEA.
Georgia Anetzberger, president, NCPEA: The National Committee for the Prevention of Elder Abuse (NCPEA) was founded in 1988. It is the first multidisciplinary nonprofit membership association in the United States to be dedicated to identifying, preventing, and responding to the abuse, neglect, and exploitation of older persons and adults with disabilities. Led by experts in such fields as social services, medicine, and elder law, NCPEA helps shape the field of elder justice through interdisciplinary research, education and awareness, advocacy, and coalition building. Its official publication is the Journal of Elder Abuse & Neglect. NCPEA has been a partner or participant in the National Center on Elder Abuse since 1998, and in the National Adult Protective Services Resource Center since 2011.
How prevalent is elder abuse?
GA: Recent nationally representative prevalence studies suggest that each year, one in ten community-dwelling older Americans experiences elder abuse. The problem also occurs in residential care facilities, such as nursing homes.
People often hear the word abuse and default to the assumption that this means physical abuse. What other types of abuse are commonly directed at seniors?
GA: The National Center on Elder Abuse recognizes the following types of mistreatment: physical abuse, psychological or emotional abuse, neglect, financial abuse or exploitation, abandonment, and sexual abuse. In addition, many state laws include self-neglect as a type of elder abuse.
What are the most common risk factors associated with elder abuse?
GA: The risk factors that have been found through research to be most correlated with elder abuse include alcoholism, history of mental illness, and financial or housing dependence (on the victim) as characteristics of the perpetrator; dementia or cognitive impairment, physical disability, and disturbing behaviors are characteristics of the victim; and social isolation or lack of social support.
What are the warning signs of elder abuse that loved ones and caregivers should watch for?
GA: Signs of neglect or abandonment can include lack of adequate food or appropriate clothing, a home that is cluttered or has fire or safety hazards, and a vulnerable older adult left without necessary care or supervision. Signs of physical or sexual abuse can include inadequately explained injuries or sexually transmitted diseases. Signs of psychological or emotional abuse can include uncharacteristic changes in behavior on the part of the older adult, like becoming fearful, anxious, or withdrawn. Finally, signs of financial abuse or exploitation can include a caregiver taking control of an older adult's money but failing to provide needed care, and a vulnerable older adult signing over property without understanding the transaction or its implications.
What is the biggest misconception the general public has regarding elder abuse?
GA: A common misconception about elder abuse is that it is rare and could never touch the life of someone whom we know and love. In fact, elder abuse may be more common than child abuse, and most of us will know at least one victim sometime during our lives.
What are the keys to preventing elder abuse?
GA: Older adults should stay socially connected, and those in contact with them should be on high alert to the possibility of elder abuse.
What advice do you have regarding intervention by caregivers, friends, and/or family members when elder abuse is suspected?
GA: If elder abuse is known or suspected, it should be reported to an agency that has authority to respond to the situation. Depending on such factors as specific state law, type of elder abuse, and urgency of response, that may be adult protective services, a long-term care ombudsman program, or the police or sheriff's department.
How can people get involved with, or donate to, the NCPEA?
GA: Those who would like to join NCPEA or make a donation to the organization can do so by visiting our website at preventelderabuse.org, calling us at (202) 464-9481, or writing to us at NCPEA, 1730 Rhode Island Avenue NW, Suite 1200, Washington, DC 20036. NCPEA recognizes various membership categories (i.e., individual, student/senior/retiree, coalition, institutional, supporter) and greatly appreciates donations of any amount. It is an approved charity under the Combined Federal Campaign.