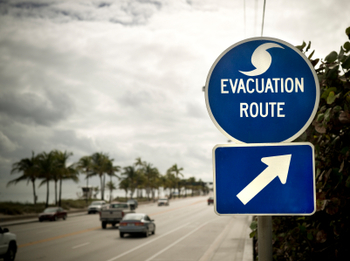 Protect older adults during a natural disaster by following these tips:
Try not to watch the news incessantly or in front of the person you're caring for -- it can make anyone who already feels vulnerable (including children) nervous and anxious. Quietly gather supplies, and don't wait too long. It's best to give yourself plenty of time and not rush. Know where you're going -- shelter, hotel, other family member's house -- and let others know your A, B, and C plans.

Keep medications in grab-and-go containers for quick evacuation. If your loved ones have certain conditions and you fear you may be separated, write on their arm or leg with a marker pen, noting when they need to take their medications, what condition they have, and any other important details.

Make sure you have a copy of all insurance/medical information -- as well as home insurance information -- since you may not be able to get back into the house to get policies.

Have a backup person (neighbor, close friend who lives nearby) who knows it's his or her job to check on and, if need be, evacuate your loved one. This is particularly important if you're a long-distance caregiver or if you work full-time.

If you do need to evacuate, write with marker pen or lipstick where you've gone and who's with you on your front door. That way you'll spare other family members, friends, and neighbors unnecessary panic and worry that you and your loved ones can't be found.

Be specific. When things get hectic, it's only natural to feel uncertain. Give explicit instructions ("Get mom and go to X-shelter," or "Mom, get your purse and your cane. We're going to X-location."). Aim to sound calm but authoritative, so that your loved ones feel safe and know exactly what they need to do.