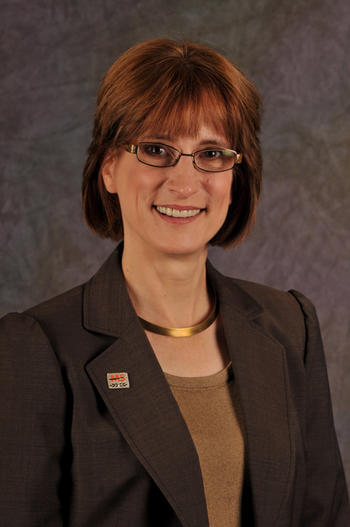 All Rights Reserved
Multiple sclerosis is a chronic disease of the central nervous system that is thought to be an autoimmune disorder. MS can cause a wide range of problems, ranging from blurred vision and loss of balance to paralysis and blindness. It's most commonly diagnosed in people between the ages of 20 and 50 and affects more than 2 million people worldwide. Cyndi Zagieboylo is the president and CEO of the National Multiple Sclerosis Society.
Tell us about the National MS Society.
Cyndi Zagieboylo: The National MS Society addresses the challenges of each person affected by MS. To fulfill this mission, the Society funds cutting-edge research, drives change through advocacy, facilitates professional education, collaborates with MS organizations around the world, and provides programs and services designed to help people with MS and their families move forward with their lives. In 2012 alone, the Society invested $43 million to support 350 research projects around the world while providing programs and services that assisted more than one million people. The Society is dedicated to achieving a world free of MS.
Are there any particular warning signs for MS that should prompt people to consult their doctors?
CZ: Multiple sclerosis is a chronic, unpredictable disease that affects the central nervous system (the brain, optic nerves, and spinal cord). It is thought to be a disease of the immune system, in which the immune system mistakenly attacks healthy tissue in the central nervous system.
MS can cause blurred vision, loss of balance, poor coordination, slurred speech, tremors, numbness, extreme fatigue, problems with memory and concentration, paralysis, blindness, and more. These problems may be permanent or may come and go. Symptoms of MS are unpredictable; they can vary from person to person, and from time to time in the same person. For example: One person may experience abnormal fatigue and episodes of numbness and tingling. Another could have loss of balance and muscle coordination, making walking difficult. Still another could have slurred speech, cognitive issues, tremors, stiffness, and bladder problems.
There is significant and growing evidence that early diagnosis and active treatment can help slow disease progression and delay the onset of these and other symptoms. MS symptoms result when the immune system attacks myelin, the protective insulation surrounding nerve fibers of the central nervous system. Myelin is often compared to insulating material around an electrical wire; loss of myelin interferes with the transmission of nerve signals, which, in turn, causes the symptoms of MS. Myelin is destroyed and replaced by scars of hardened "sclerotic" tissue. Some underlying nerve fibers are permanently damaged or severed as well. The damage appears in multiple places within the central nervous system, giving the disease its name.
What are the biggest misconceptions regarding MS?
CZ: The most common misconceptions are that there is nothing to be done about multiple sclerosis and that everyone's experience is the same.
With early diagnosis and treatment, many people living with MS can have a normal or near-normal life expectancy, and most do not become severely physically disabled. Two-thirds of people living with MS remain able to walk, though many will need an aid, such as a cane or crutches, and some will use a scooter or wheelchair because of fatigue, weakness, balance problems, or to help conserve energy.
MS is not contagious and is not directly inherited. Studies do indicate that genetic factors, in combination with environmental factors, make certain individuals susceptible to the disease and likely help determine the disease course and severity of the illness.
People with MS can typically experience one of four disease courses, each of which might be mild, moderate, or severe. Approximately 85 percent of people are initially diagnosed with relapsing-remitting MS, which is characterized by clearly defined attacks of neurologic function that are followed by partial or complete periods of recovery. Of those diagnosed with relapsing-remitting MS, the majority of people eventually develop secondary-progressive MS, in which the disease worsens more steadily, with or without occasional attacks. Approximately 10 percent of people are diagnosed with primary-progressive MS, which is characterized by slowly worsening function from the beginning, with no distinct attacks or remissions. And about 5 percent of people experience steadily worsening disease from the beginning, but with clear attacks along the way.
There is much one can do to manage the disease and the symptoms it can cause. Medications that have been shown to "modify" or slow down the course of MS have been approved by the U.S. Food and Drug Administration (FDA). In addition, many therapeutic and technological advances are helping people manage symptoms. Advances to stop disease progression and restore lost function are made every year, and increased understanding of MS and the potential cause(s) brings us closer to the goals of stopping the disease in its tracks, restoring function, and ending MS forever.
The National Multiple Sclerosis Society recommends that people consider treatment with one of the FDA-approved disease-modifying therapies as soon as possible following a definite diagnosis of relapsing MS. In many instances, starting therapy is recommended after an initial demyelinating episode ("clinically isolated syndrome") that places a person at high risk for developing clinically definite MS. These disease-modifying medications help to lessen the frequency and severity of MS attacks, reduce the accumulation of lesions (areas of damage) in the brain, and may slow the progression of disability.
The FDA has also approved a disease-modifying therapy for reducing disability and/or the frequency of attacks in patients with secondary-progressive, progressive-relapsing, or worsening relapsing-remitting MS. This medication is a chemotherapeutic agent. The lifetime dose is limited to prevent heart damage. There is no approved treatment at this time for primary progressive MS; however, the research and clinical communities are working hard to identify an effective treatment for this form of the disease.
In addition to therapies that address the underlying disease process, there are many medications and rehabilitation strategies to address MS symptoms such as spasticity, pain, bladder problems, fatigue, sexual dysfunction, weakness, and cognitive problems. People should consult a physician to develop a comprehensive approach to managing their MS.
In what ways does the Society assist people who are living with MS?
CZ: The Society offers a variety of community-based programs to facilitate education, recreation, physical and emotional wellness, connection with others with MS, and family communication. These programs vary from one community to another; many are free or include a nominal fee.
The Society can offer guidance and resources to help contain the financial impact of MS, with a range of initiatives that support independence, safety, health, and quality of life for people living with MS, as well as their families.
In addition, the Society offers an MS Navigator® program that provides a partner to every person who lives with the challenges of MS. This free service is available to anyone who calls the Society.
The Society offers more than 60 educational brochures, more than 1,600 support groups, and 3,000 programs to more than 75,000 participants.
The Society offers several publications, including Momentum, a lifestyle magazine, and MSConnection, a newsletter featuring local news and information, as well as a monthly national e-newsletter.
To learn more about any of the Society's programs, call (800) 344-4867 or e-mail contactusnmss@nmss.org.
Does the Society work with healthcare professionals who treat MS patients?
CZ: The Society offers a full complement of literature and educational resources to assist neurologists, primary care physicians, nurses, and mental health and rehabilitation specialists in staying current with clinical care recommendations, emerging therapies, and continuing MS research.
Through the MS Clinical Care Network (www.nationalMSsociety.org/MSClinicalCare), healthcare professionals can request library services, clinical consultations, and a variety of tools to support them. They can also direct questions and requests to healthprof_info@nmss.org.
In terms of advocacy, what are the highest-priority issues the Society is currently addressing?
CZ: Research funding continues to be our highest priority, both organizationally with our own research portfolio and at the federal government level. Funding for the National Institutes of Health and the Congressionally Directed Medical Research Programs (CDMRP) for MS are critical as we work in partnership with the government, industry, and academia to find new therapies and ultimately a cure.
This year we are also focused on adequate funding for the Food and Drug Administration -- it doesn't do much good to develop new therapies if the agency charged with reviewing and approving them is funded at levels that threaten the pace of progress in developing new treatments for patients. The FDA is responsible for approximately 25 percent of all consumer products, or $1 trillion of our economic activity, yet it receives less than one-tenth of one-percent of the entire federal budget for its critical role. (FDA budget is approximately $2.5 billion in taxpayer funds and another $1.6 billion in user fees paid by industry.)
Access to healthcare is another top priority. The ability to access the specialists and treatments necessary have a significant impact on the progression of the disease and the ability of someone with MS to live a full life. We're fortunate to have nine therapies available with more on the way; however, people with MS often have to fight battles over cost and coverage, so we get involved in those issues at both the state and federal levels. Our state advocacy staff and volunteers are deeply involved in health reform implementation, ensuring access to MS therapies within drug formularies and finding ways, on a state level, to address significant challenges around cost-sharing for medications.
What should people know about the Affordable Care Act as it relates to MS?
CZ: The National MS Society supports the full implementation of the Affordable Care Act, so that people with MS will never again face denials for coverage and access to care due to a preexisting condition or the lack of affordable coverage choices. The value of coverage for people living with MS and their families will be significantly enhanced through new standards for covered benefits, caps on out-of-pocket costs, impartial appeal rights, plain-language explanations, transparency measures, and accountability requirements for health insurers. Medicare and Medicaid will be strengthened for current and future enrollees with expanded benefits. Much will be learned about prioritizing the quality of care over the quantity of care and the unfulfilled hope for long-term care supports and services.
In terms of MS research, what does the National MS Society do in terms of funding and promoting innovative research?
CZ: The National MS Society is committed to a world free of MS, advancing a comprehensive strategy of promising research aimed at stopping the progression of the disease and restoring function for all those living with the disease; and ultimately ending MS forever. Since its founding in 1946, the Society has propelled research forward into many of the currently available therapies and treatments by allocating more than $761 million.
We support a unique, comprehensive approach that funds research activities spanning all types and stages of research, ensuring that promising paths are not overlooked. Whether it's academic and early-discovery research, translational research test ideas for use in people, or the commercial development that results in therapeutic solutions for testing and clinical trials, we drive promising research that can impact those living with multiple sclerosis. Right now we're supporting some 350 research projects, training fellowships, and collaborative centers to forward the objectives of the Society's Strategic Response to MS, with these objectives:
Better understanding the scientific mechanisms that lead to disease progression and accelerating the development of new therapies

Pursuing new avenues to discover how nerve cells are damaged and potentially repaired

Fostering new rehabilitation techniques and symptomatic treatments to restore neurological function and enhance quality of life

Identifying risk and triggering factors that cause MS and understanding the biological interactions that lead to its development so that MS can be prevented

Expanding and strengthening the quantity and quality of MS research worldwide to accelerate new discoveries and treatments for people with MS
How can people get involved with or donate to the Society?
CZ: The Society depends on support from members, friends, corporate partners, and the public at large. This sum is a combination of all revenue including individual gifts, membership dues and contributions, legacies and bequests, special events, corporate contributions, and investments. Approximately 68 percent of the Society's income is generated through special events. Approximately 10 percent comes from pharmaceuticals companies, corporate support, and government grants.
The Society organizes a variety of special events and campaigns across the country. Two key fund-raising events for the Society are Bike MS® and Walk MS®. Key individual giving programs include Golden Circle, Circle of Distinction, and Lawry Circle. Because of strong volunteer support, it costs the Society approximately 17 cents to raise a dollar.
Can you describe Bike MS®?
CZ: With more than 100 unique rides across the nation, cyclists can find the ride that's right for them. These fully supported rides not only connect cyclists to more than 100,000 other cyclists but also to a growing movement to create a world free of MS. Proceeds benefit the Society's national research programs and fund programs that help people living with MS and their families. For information about Bike MS, call 1-800-FIGHT-MS (1-800-344-4867) or visit bikeMS.org.
What is Walk MS®?
CZ: Each year more than 300,000 people unite across the country to participate in Walk MS. All walks have an accessible route so people of all abilities can participate. Funds raised support the Society's research and services programs. For more information about Walk MS, call 1-800-FIGHT-MS (1-800-344-4867) or visit walkMS.org.
How is Challenge Walk MSSM® different from Walk MS®?
CZ: Participants accept the challenge to walk 30 to 50 miles over 2 to 3 days at any of our 9 Challenge Walks across the nation. For more information about the Challenge Walk, call 1-800-FIGHT-MS (1-800-344-4867) or visit challengewalkMS.org.
And what is MuckFest™ MS?
CZ: Our five-mile MuckFest™ MS course will wipe you out, literally. It's got more thrills, spills, and sustained laughter than any obstacle run in the world. For information about the 18 MuckFest™ MS events planned for this year, call 1-800-FIGHT-MS (1-800-344-4867) or visit MuckFestMS.com.
Can people come up with their own fund-raising ideas?
CZ: Certainly. If you're interested in creating your own event, you'll find everything you need at DoItYourselfFundraisingMS.org.