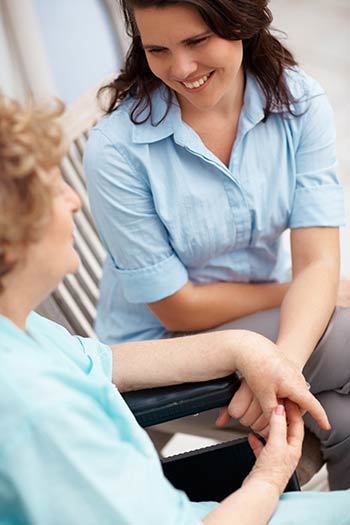 All Rights Reserved

Our society is facing an unprecedented challenge. With 40 million citizens -- 13 percent of the U.S. population -- aged 65 or older, and an average life expectancy at an all-time high of more than 78 years, we are facing issues on a grand scale that prior generations rarely encountered. The National Council on Aging (NCOA) works to improve the health and economic security of elderly Americans and to strengthen the public programs that support them. Paul DelPonte is a spokesman for the National Council on Aging.
What is the mission and purpose of NCOA?
Paul DelPonte, National Council on Aging: NCOA is a nonprofit service and advocacy organization whose mission is to improve the lives of millions of older adults, especially those who are vulnerable and disadvantaged.
NCOA works with thousands of organizations across the country to help seniors find jobs and benefits, improve their health, and live independently. We're also a national voice for older Americans and the community organizations that serve them.
What are NCOA's key initiatives for improving the health of older adults?
PD: NCOA's goal is to improve the health of 4 million older adults with multiple serious health problems through participation in cost-effective, proven programs. Here's how we're working toward that goal:
The economic security of older adults is another main focus for NCOA.
PD: Retirement is not "golden" for all older adults. Over 23 million Americans aged 60-plus are economically insecure -- living at or below 250 percent of the federal poverty level ($27,925 per year for a single person).
These older adults struggle each day with rising housing and healthcare bills, inadequate nutrition, lack of access to transportation, diminished savings, and job loss. For many, that means making daily decisions about whether to spend their limited income on food, heat, or medicine. For older adults who are above the poverty level, one major adverse life event can change today's realities into tomorrow's troubles.
What are NCOA's key initiatives to enhance the economic security of older adults?
PD: Our goal is to improve the financial well-being of 5 million low-income and vulnerable older adults by providing comprehensive services that significantly increase their income and/or reduce their expenses. Here's how we're working toward that goal:
In terms of advocacy, NCOA is committed to strengthening public programs such as Medicare, Medicaid, Social Security, and the Older Americans Act. What does this mean in practice?
PD: NCOA brings the voices of older adults -- especially the vulnerable and disadvantaged -- and the organizations that serve them to Washington to protect and strengthen programs that work.
Last year, our grassroots One Away campaign collected and shared more than 5,000 personal stories of struggling older adults, generated 30,000 letters to Congress, and encouraged 30 organizations and over 2,000 citizen advocates to express their support for protecting and strengthening the Older Americans Act.
NCOA successfully advocated for $10 million in new federal funding for chronic disease self-management programs and worked with partners to protect Medicare and Medicaid beneficiaries from harmful proposed budget cuts.
If you had to name one, what is the main threat to the health and well-being of older adults today?
PD: The main threat to older adults today is losing their independence. This loss can come from a chronic illness that requires long-term care or from uncertain economic times.
What opportunities exist to get involved with NCOA?
PD: NCOA offers multiple ways for people to get involved in our work.
Older adults and caregivers can use and share our free tools and information to find the help they need to stay healthy and secure.

Professionals in aging can use our programs and resources to better serve the older adults in their community.

Advocates can add their voice to ours as we work to improve and protect programs for older adults, especially the vulnerable and disadvantaged.