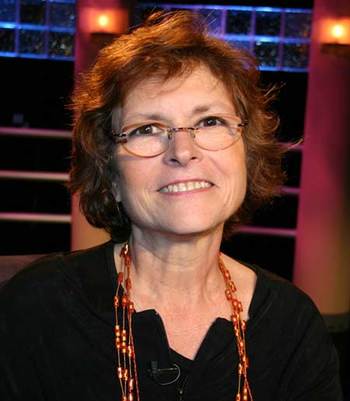 All Rights Reserved
Take a closer look behind much of the information and statistics you read about family caregiving, and you're apt to see that it stems from the National Alliance for Caregiving (NAC). This nonprofit coalition organizes and conducts key research and advocacy work on behalf of family caregivers, helping shape public policy and public awareness in ways that impact the everyday lives of one-third of American households. Founded in 1996, NAC's more than 50 members include a wide range of organizations, government agencies, and corporations interested in eldercare (including Caring.com).
We asked Gail Hunt, president and chief executive officer of the National Caregiver Alliance, about NAC's latest endeavors.
Let's start with NAC's new report, Catalyzing Technology to Support Family Caregivers. Stories about pricey robots grab the headlines, but where do you see the real tech help for caregivers coming from?
Gail Hunt, president and CEO of the National Alliance for Caregiving: Some exciting areas of promise are software platforms that help with medication management, a family diary you can share with others, and passive monitoring systems that can tell you when Mom got up or opened the refrigerator. These aren't futuristic things. They exist today, just not necessarily in a way that's caregiver-friendly. So we wanted to identify the best next steps to making that happen.
The report is the result of a meeting of 20-some developers and thought leaders in caregiving who met in Palo Alto to really look at caregivers' needs and how technology could do a better job of responding to those needs. It came about because I've known one of the two Silicon Valley organizers, Richard Adler, for a long time. He and Rajiv Mehta, a technology executive, came up with the idea and brought together the tech side. NAC was the caregiver side.
Another recent NAC report, issued with the Alzheimer's Foundation of America, looked at how to implement state plans for supportive services. Are there widespread differences, from state to state, on what's being done to help dementia caregivers?
GH: Absolutely. This report was a summary of a webinar we held with three states that are doing a pretty good job. But some states are more successful than others.
Many people don't realize that though there's a National Alzheimer's Project Act (NAPA), every state is supposed to have its own plan. You can find out through your state agency on aging what's happening with regards to Alzheimer's planning in your state and how you can support those efforts. Sometimes people think the Alzheimer's Association does this. They do provide technical assistance to the states, but it's not up to them to create the plan; that's up to the state.
Those two recent projects illustrate a core mission of NAC, which is research and advocacy to advance the conversation about caregiving. What's happening now within NAC that's helping to make things better for family caregivers?
GH: In January 2015, we'll release the latest Caregiving in the U.S. report, a benchmark study we've done every five years. We're again collaborating with AARP. The field research is being collected right now.
There's also increasing interest on the part of employers around what they can do to help their employees who are caregivers. Recently a coalition of employers called ReACT did a study of best practices. We also partnered with them to help create a tool kit for managers and HR staff.
And again, the work in technology is very promising.
What do you see as roadblocks to progress for family caregivers now, if there are any?
GH: I'm concerned about the fact that we can't seem to have a conversation about long-term care. We need to develop a national policy around how it should be organized and, especially, paid for. The first baby boomers start turning 75 in six years, and they have smaller families than their parents did. Family caregiving and long-term care are really tied together.
The prevailing viewpoint has been that there should be private long-term care paid for by insurance, with a safety net only for the poor. Where does that leave the middle class? Now we have the long-term care insurance industry getting out of the business, which speaks volumes about how this idea that we should rely on people to pay privately isn't really working.
What other NAC projects are you especially proud of?
GH: We've pulled together 90 state and local caregiving coalitions to help strengthen them, and we help provide training and webinars for them. We're also the secretariat of the International Alliance of Carer Organizations (IACO), a group from ten countries that's worked on projects to improve the visibility of family caregivers, such as a United Nations Day for Carers.
That's a nice word, carers, that you don't hear much in the U.S.
GH: I was at a meeting a couple of weeks ago where people discussed how difficult the word caregiver is. Doctors and nurses call themselves caregivers, and so do other paid caregivers. There are new words like care partner, but that seems to imply a spouse or a close relationship. People were saying, "Maybe we should go with carer." But that would be a major effort.
Whatever you call it, our research helps people see, "Here's the caregiver, here's the care receiver, here's what we're doing, here's the burden and where help is needed."