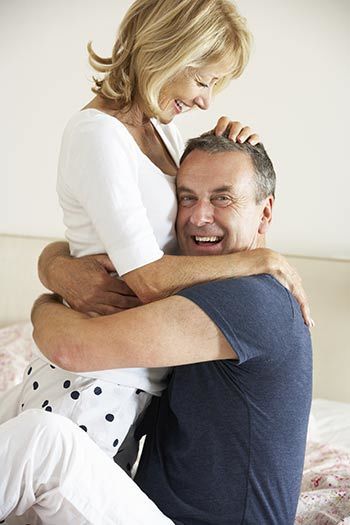 All Rights Reserved
Even in the healthiest relationships, MS can move in like a tidal wave, submerging couples in a sea of stress and caregiving. However, the challenges that arrive during the course of MS, whether physical, financial, sexual, or emotional, don't have to tear you asunder; they can bring you closer together, too. Here are some common issues, plus strategies for keeping your relationship loving and healthy.
Strengthen communication.
First, recognize that MS symptoms do not define the individual, says Deborah Miller, PhD, LISW, and associate professor of medicine at the Cleveland Clinic, Mellen Center. It's really important to talk about specific symptoms and not about the person. Use I statements, such as, "I can see that when you're forgetful, you're embarrassed. I know that it's just a symptom." I-statements can cool both of you down and are a way to clear communication.

Redistribute responsibilities.
When a spouse is no longer able to contribute to the household in the same way, as homemaker or financial provider, it's important to reinterpret those roles, says Miller. "Often a husband is able to start cooking to express himself, and to connect with the kids in a way he hasn't before." Homemakers can teach family members how to take care of household chores in a way that's less burdensome. Or she might let go of the housecleaning totally, which is a transformative experience in itself. Lastly, don't be a bean-counter, totaling up who does what how many times a day. That doesn't work in any relationship.

Don't give up on sex. "With everyone, whether they have MS or not, sex is a moving target," says Miller. That means it's normal that as all our bodies change there will be changes in functioning, and the more you can communicate, the more your chances for enhancing sexual intimacy increase.

With MS, changes in sexual functioning are explained in three different ways, all of which can happen at the same time:

Primary: Damage to the central nervous system in women often contributes to an inability to become aroused, to achieve vaginal lubrication, or to experience an orgasm. In women, additional foreplay and flirting can lead to arousal. Lubricants such as K-Y Jelly increase lubrication. In men, MS can also affect arousal, as well as the ability to achieve and maintain an erection. Studies show that medications such as Viagra for erectile dysfunction work in 50 percent of men with MS. Both men and women experience numbness and often pain, so some things that once felt good now are painful. Your health professional can prescribe medications for pain. As for numbness, increase stimulation manually or orally and take advantage of sex toys, such as small, egg-shaped vibrators that can be worn during intercourse. In short, experiment.

Secondary: MS symptoms, like fatigue, spasticity, and out-of-control bladder, can affect functioning and enjoyment. Meeting these challenges often requires good timing and self-care, including massage, stretching, and creative sexual positioning.

Tertiary: The attitudes and cultural messages expressed by society often influence how we feel about ourselves and our sexuality. Take care of your body and remember that the way you dress has a big effect on the way you feel.

Additional ideas:

Be creative. Rewrite and reshape those intimate times. Sometimes simple body contact is what's needed to stay close. Best of all, write down what sexual intimacy means to you, share it with your partner, and see how you can best achieve it.

Make a body map. Learn about your body by taking some private time. Touch yourself from head to toe and see what's pleasurable. Don't try to reach orgasm; this is for informational purposes, and when you know your body better, you can move on to body mapping with your partner.

Take some "me time." Whether you have MS or are a caregiver, a little time away can be a good thing. Line up friends, attend group meetings of people with similar interests, and build up social support so that you don't depend on your partner for everything. Get out of the house and talk with a trusted confidante. When you get back home, you'll be relaxed and rejuvenated.