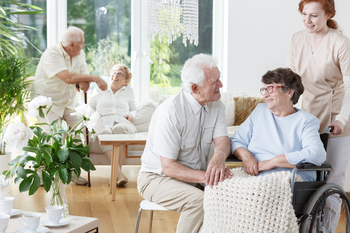 All Rights Reserved
If you're moving an aging parent into an assisted living community, research and best practices abound. There's lots of smart advice about when it might be time for assisted living, how to choose a facility and finding new and improved memory care options, if your parent requires that type of care.
But what happens if you need to move them from one assisted living community to another? It's harder to find guidance about what to do in this situation.
Maybe your mom, like mine, moved into a senior care home far from you but near where she'd lived for years because she didn't want to leave the area she knew. Understandable, right? But now circumstances have changed. She's not driving anymore, is seeing less of her community and wants to be closer to family.
Or maybe management and services at your parent's current facility have declined since his or her arrival. Or her health has changed, which requires a move. Or it's the adult children who've decided that having Mom closer will be easier for them.
Whatever the reason, it's daunting to consider moving an older person from familiar surroundings to somewhere new, even under the best of circumstances and with the best of intentions.
First you have to consider the risks.
3 Major Risks of Moving to a New Senior Care Community
1. Your parent won't like the new community
"The biggest risk is that your parent won't like it," says Amanda Lambert, an Aging Life Care professional, certified care manager and co-author of "Aging with Care: Your Guide to Hiring and Managing Caregivers at Home." "Even when a parent is initially amenable and there are clear benefits like being closer to the family, don't underestimate the impact all-new staff, residents, surroundings and process will have on your parent. Comfort and familiarity count for so much. Particularly for an older person, any kind of move takes so much energy." At best, your parent could be exhausted for days or weeks; at worst, she could face a cognitive setback.
2. It will be hard to replicate relationships formed at the first community
"Another risk is that relationships left behind may have been more important than the family noticed," says Ann Cason, geriatric care manager and author of "Circles of Care: How to Set Up Quality Home." "Elders sometimes don't show the importance of their friends out of fear that the family will think they are not needed and won't come as often. It's hard to realize that people who eat their meals together over time become very important to each other, even though they may not talk much."
3. Unrealistic expectations of the new community
"You are moving back to be closer to the kids and you have an idea in your head of what that'll be like," says Lambert. "But then the kids don't visit as much as you'd expected or it's not as enjoyable as you thought it would be."
You're not moving to a perfect place with perfect people. The food, décor, location, staff and residents could be disappointing, in any combination.
What to Consider When Moving a Senior from One Community to Another
If a move is inevitable, how can you mitigate the risks of the move?
Leave on good terms with everyone
"It helps to say good-bye before you say hello," says Cason. "Spend time telling old friends goodbye. Try to arrange a gathering and share the reason for the move. Share your parent's new telephone number and make sure her new address is posted on the bulletin board so people can contact her. Thank the staff and don't burn bridges when leaving. Relationships are so important and tender even when they appear not to be."
And you want to leave the light on for your parent returning down the road, just in case the move to a new community doesn't work out like it should after a fair trial period.
Find an excellent new community
"The goal is to find a new place that's as good or better than where your parent is now," says Lambert. "Do as much research and visit as many facilities as you can so you know the options." Especially if you're planning a move to a new and unfamiliar location, consider using a local geriatric care manager who knows the options and is not tied to any specific facility. You'll want someone who can do the leg work from afar.
Plan for extra help at the new place
"Especially if your parent has cognitive challenges, get assistance on the other side of the move," says Cason. Your parent will need extra help in establishing new routines, learning where meals are served and activities are held, and meeting/being introduced to new people. "The new assisted living may offer you extra help. If they don't, invest in extra hours from family or a paid in-home caregiver for a few days until your parent feels comfortable with finding her way around and locating her possessions."
Get the family involved
When it comes to a move like this, don't go it alone. "It's important to make sure that your entire family and any close friends are involved in the transition," says Lambert. For example, siblings should get together and come up with a plan for visiting during the first month or so. Create and maintain a schedule so that your parent has help from loved ones while getting acclimated.
Offer extra help for a cognitively impaired parent
You may need to provide extra handholding for a parent who has dementia or another cognitive impairment and either won't remember his decision to move or is intermittently conflicted. "Even with people who are confused, it's important to acknowledge what's happening," says Cason.
"Sometimes you can't tell the person that she is leaving too far in advance because of the anxiety it will cause. But even if it is a few hours before you go, let your parent know again and remind them that they know. Tell them, in your own words, some version of, "It's hard to leave and moving is hard, but this is going to be a better place, closer to me, and we'll work together and get it done." Or, "I know it's hard, but this new place specializes in making people think better and be happier. "
How to Know if it's The Right Decision
If your parent wants to move from one assisted living home to another, like in my mother's case, then you're empowering and supporting your parent in their decision. You can remind them of that if they start to question why they're making a change.
If it's your or your family's decision to move your parent, one way to know if you've made the right call is by asking yourself: Have I exhausted all other options that would spare my parent the difficulty of making a move?
"Sometimes you need to realize that making it more convenient for the kids isn't a good enough reason," says Lambert. "Can you hire help close to your parent to help manage long-distance caregiving and fill in gaps, such as managing healthcare or taking your parent to appointments? Long distance care management might be better and there are more options than you might realize."
Once you've decided that, in fact, you have exhausted all other options and moving is still the best one, then, "trust yourself that your intention was good and that you are doing the very best that you can," says Cason. "In the middle of the move, you might want to give up. But don't beat yourself up about it. Within a few hours or days, the move will be accomplished. Then give it a few months, even a year. It takes a while to make new friends and get used to a new routine. You have no idea how it would have been if you hadn't moved, so put a positive spin on where you are now."