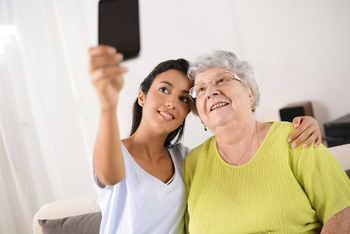 All Rights Reserved
Ah, Mother's Day. It's the (hopefully one of many) days of the year when mothers get recognition for the many things they do for their children. It should go without saying that grandmothers deserve a little credit, too – after all, they have multiple generations to dote on and care for. Yet, grandmothers are all too often overlooked on this holiday, perhaps because their children are grown or their grandchildren live far away, or because the focus of the day tends to be on mothers of younger children.
As it turns out, it doesn't take grand gestures or pricey presents to make Grandma feel appreciated on Mother's Day. While the holiday typically means gifts of flowers, cards or jewelry, a recent Caring.com poll of more than 1,050 grandmothers revealed that time spent with family far outweighed material gifts.
A whopping 87 percent of respondents to the survey said they would prefer a phone call from their children or grandchildren to a bouquet of flowers on Mother's Day. And even more grandmas – over 94 percent – said they would choose brunch with family over jewelry.
The takeaway – for grandmas, simply spending time with family outweighs material gifts by a landslide. Whether you live thousands of miles from your grandmother or in the same house, there are plenty of things you can do to celebrate her on Mother's Day, or any other day of the year.
What follows are some simple ideas to help you get started. Try one or a combination of these gestures to show your grandma you care.
1. Treat Your Grandma to a Meal
Chances are, your grandmother has probably spent enough hours in the kitchen over the years preparing food for the family that returning the favor is long overdue. Whether that means taking your grandmother out for lunch, brunch or dinner, or whipping something up for her yourself, treating her to a meal for Mother's Day will be appreciated. It's a simple enough gift for most people to plan, and most importantly, it means you'll get to spend some quality time together.
2. Get on the Phone
A phone call may not qualify as a "gift" in the minds of many, but as our survey shows, this simple gesture goes a long way. Life gets busy, and many grandmothers probably don't hear from their family as often as they'd like. So if you can't see your grandma in person on Mother's Day, make sure to carve out some time for a phone call. Consider including other family members on a conference call or Skype call so she gets a chance to hear from even more of her favorite people.
3. Send Snail Mail
When was the last time you received a heartfelt letter or card in the mail? Your grandmother – who no doubt has plenty more experience with good old-fashioned snail mail than you do -- will appreciate seeing a card from her loved ones in her mailbox. Along the same lines as a phone call – a card is a great gesture when you can't see your grandmother in person. Spend a little time writing a note wishing her a happy Mother's Day and if possible, include a photo of yourself and any other family members (bonus points if it's a picture she's in, too). If you have children yourself, consider having them create their own homemade cards, drawings or other DIY creations, and include those in your Mother's Day package.
4. Take Part in One of Her Hobbies
Your grandma has had years to develop a favorite hobby or two, so you should be aware of at least one of them by now. Schedule some time to join in on one of those favorite pastimes as a Mother's Day gift. Maybe that means spending an afternoon in the garden, on the golf course, the hiking trail, in a bookstore, or perhaps sitting together and knitting something. Whatever her preferred activities are, she'll appreciate that you're taking time to indulge in them with her. Plus, you might just learn a thing or two from her years of expertise!