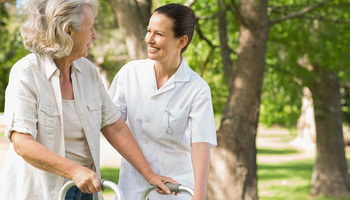 All Rights Reserved
For many adults, mobility decreases with age and can have negative effects on their health - from a lack of personal freedom, obesity, reduced strength and balance, depression, and chronic illness.
Moreover, sensory deficits such as a decline in hearing or vision may accelerate a decrease in mobility. But with the help of mobility aids such as those listed here, many people can enjoy the freedom that comes with the physical ability to move.
1. The Extra-Loud Big Button Speakerphone with Talking Caller ID
People with mobility issues often have trouble using the phone, and many suffer from hearing problems that make it hard to talk on a phone. But Clarity Power's patented technology amplifies sounds that enhance phone communication.
Clarity's Extra Loud Big Button Speakerphone is a simple-to-use cordless phone with plenty of amplification to make any call loud and clear. Its many features include:
The ability for hands-free conversations
A high-contrast Caller ID screen with large fonts in English, Spanish, or French.
Talking caller ID
Extra loud flashing ringer
Direct connection to assistive listening devices
Amplified outgoing speech for others to hear you better.
To order: Amazon.com
2. The AlterG Bionic Leg
The AlterG Bionic Leg is a wearable, robotic device designed for anyone who is undergoing rehabilitation therapy while recovering from a stroke, orthopedic injury or surgery, spinal cord injuries, traumatic brain injuries, as well as patients with Multiple Sclerosis.
It's also one of the best mobility aids available because it helps patients increase their balance, reach higher functional levels, strengthen weak muscles, and improve their gait and balance.
"Patients using this new therapy tool will improve functional activities such as standing, walking, and climbing stairs," said Susan Golden, the director of neurorehabilitation for the Good Shepherd Rehabilitation Network in a news release from the organization.
To order: AlterG.com
3. The KneeRover
For patients recovering from a leg injury or surgery, the prospect of being on crutches for an extended period is often daunting. But with KneeRover - a knee walker solution designed to meet the needs of many users - crutches don't have to be part of the rehabilitation process.
KneeRover offers plenty of versatility for those in need of mobility aids thanks to four All-Terrain options designed to work on grass, dirt, gravel, sidewalks, etc. It also provides the freedom to do things that are otherwise impossible on crutches, including carrying food and drink to the table, doing household tasks, shopping, and more.
To order: KneeRover.com
4. The Essential Medical Supply Power Bench
Taking a shower or bath is often risky business for those who suffer from mobility or balance issues. Fortunately, there are plenty of mobility aids available to you if you struggle with those difficulties, including the Essential Medical Supply Power Bench.
Made of durable aluminum, the Essential Power Bench features a padded seat and backrest, covered armrests, and plastic caps which cover the feet and prevent the bench from moving around in the shower.
To order: Amazon.com
5. The Telestik Reacher
Another challenge for those with mobility issues is accessing hard-to-reach items. The Telestik Reacher resolves the problem with a trigger-free device that uses a magnet or adhesive pad to pick up things.
The Reacher comes with two stainless steel arms that extend up to to 34 inches and features a soft slip-resistant grip that makes picking things up easier and safer. It's able to grab objects weighing up to 1 pound and is ideal for anyone whose physical condition makes it difficult for them to reach up high or bend down low.
To order: Amazon.com
6. The EZ Stand-n-Go
It may be difficult for you or a loved one to stand from a couch, chair, or recliner, especially if you have limited mobility. Among the best mobility aids for people who face those issues is the EZ Stand-n-Go.
Whether you're recovering from surgery, have back issues, or have a couch that's set low to the ground, the EZ Stand-n-Go provides the leverage and support you need to stand comfortably and safely. It's also entirely adjustable to any couch, chair, or recliner, and easy to install.
The EZ Stand-n-Go comes with dual support handles placed where you need them most for maximum support.
To order: Amazon.com
7. The Seat Lift Chair Table
The Seat Lift Chair Table features a table top that supports a wide variety of activities, such as eating, working on a laptop computer, reading, or even playing games. It's designed for use with lift chairs, recliners, or couches.
No attachments are required with the Seat Lift Chair Table as the furniture's weight secures it into place. The table top easily pivots 360 degrees and is constructed with a solid laminate finish.
To order: Amazon.com