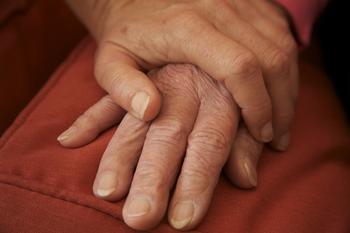 All Rights Reserved
Note: Whether a glitch is normal or indicates a problem depends on many factors best evaluated by a professional, such as a geriatric psychiatrist or neuropsychologist. It's important to realize that changes in cognition and memory tend to fall along a spectrum. This symptom is considered a sign of concern that warrants an evaluation if it happens consistently or begins to interfere with daily life, especially if this is a change (new or different).
Why it happens
Hand-eye (or visual-spatial) coordination refers to the processes the brain, the eyes, and the muscles use to perform such skills as catching a ball or getting proportions right when drawing a box. Early brain changes can make it difficult to transmit messages effectively, causing physical coordination to slow and become less accurate and more prone to mistakes.
What you can do
Allow more time for tasks that involve hand-eye coordination.

Encourage someone who sees crafts, artwork, or other handiwork affected to find ways to persist with such hobbies even though the finished works may not meet previous standards. Someone who excels at line drawings may want to try more forgiving watercolors, for example.

Monitor driving skills carefully. Worsening hand-eye coordination can cause response time to slow.

Consider physical therapy if there are specific kinds of tasks being affected; the person you're concerned about may be able to strengthen muscles and learn effective ways to compensate. Some home-based software claims to provide similar benefits.