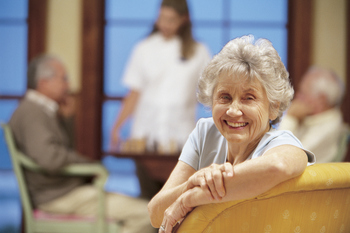 All Rights Reserved
About seven in 10 adults over 65 will require long-term care at some point in their lives, according to the U.S. Department of Health and Human Services.
If your parents or other aging loved ones need or will soon need long-term care, you'll likely face some tough questions about the best type of care for them. And if you have a loved one who's among the roughly 5 million adults in the U.S. with dementia, you may have even more questions about where to find the type of care he or she needs.
As you prepare for the future and begin to consider the right long-term care solution for your aging lvoed ones, it's important to understand the different types of long-term residential care that are available.
Here, to help you make the best decisions possible, is a look at two different but increasingly common residential care options for elderly adults -- assisted living and memory care.
Assisted Living
Assisted living is a long-term living option designed for seniors who are generally healthy but need some help with activities of daily living.
Residents of assisted living communities live as independently as they're able, but with the knowledge that helping hands are never too far away. Assisted living residents typically have private studios or apartments, although some may find that it's more economically feasible to share an apartment with another resident. Most apartments are equipped with full bathrooms, kitchenettes and enough space to relax while watching television, enjoy time with family and friends, or engage in hobbies.
Many assisted living facilities also offer transportation to doctors' appointments and organize regular outings to restaurants, shopping centers and other attractions, helping your loved ones stay active and engaged in their communities. Most assisted living communities also organize a variety of regular activities, classes and social events for residents.
Types of Care Provided
Assisted living communities have trained employees on site to help them with activities of daily living. At most communities, nurses and facility staff are available around the clock to assist residents with these basic activities including eating, bathing and dressing. Some assisted living communities also have on-site medical clinics.
At most assisted living communities, additional levels of care are available for residents who need more assistance. Additional care services might include incontinence management, pain management, physical therapy or assistance for those who are at greater risk of falls.
Assisted Living Costs
Assisted living communities typically charge a base monthly rate, which generally covers rent, housekeeping, some transportation and daily meals. Additional services such as laundry, cleaning and specialized care may cost extra, or they may be included in the community's overall monthly fee.
According to the U.S. Department of Health and Human Services, the cost for assisted living ranges from $3,293 to $6,965 per month, depending on a number of factors including the resident's healthcare requirements and the size of their apartment.
Memory Care
People living with memory problems associated with Alzheimer's disease or other types of dementia often need the more specialized care that memory care communities provide. While some people with dementia are able to stay in their homes for some time without requiring much assistance, most will require more intensive care, either from a loved one or with in-home care or at a memory care community.
Type of Care Provided
Memory care facilities have highly trained nurses on staff who are trained to provide care meant to ensure the wellbeing of people with Alzheimer's disease, dementia and other memory problems.
Staff at memory care communities provide residents with highly supervised care that includes assisting with everyday activities including bathing, dressing, eating and managing medication. They also work closely with residents to help them enjoy the highest quality of life possible. At most communities, staff members work to engage residents in fun, stimulating activities that are specifically designed for adults with dementia and have them interact with other residents.
Memory care facilities are designed with the safety of residents with dementia in mind. Most communities offer both private and shared rooms that are secure, equipped with emergency call systems and are highly monitored in order to lower the likelihood of a resident wandering. Memory care communities generally provide meals, specialized exercise programs, social activities, transportation to nearby clinics and shopping and 24-hour staff supervision.
Memory Care Costs
Because people with dementia and other memory problems typically require more extensive, specialized care than other older adults, memory care facilities tend to be more expensive than assisted living facilities. Costs at memory care communities cover the same types of services that you'd typically find at an assisted living community, in addition to specialized care.
The average cost for rent and care in a memory care facility in the U.S. adds up to about $5,000 per month, according to the U.S. Department of Health and Human Services.
Assisted Living vs. Memory Care: Which is right for your loved one?
Choosing between an assisted living or memory care community will come down to whether or not your loved one suffers from dementia or a similar cognitive condition. If it is, chances are, a memory care community would be the more appropriate choice for your loved one.
And if your loved one doesn't have dementia and is still able to live a relatively independent life but needs a little help with daily activities, an assisted living facility may be the best fit.