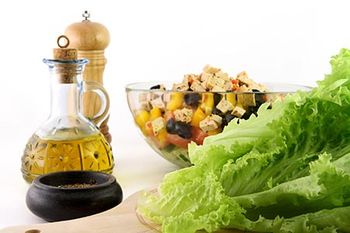 All Rights Reserved
Findings from a Mediterranean diet study published on the New England Journal of Medicine's website reveal about a 30 percent drop in heart attacks, strokes, and deaths from heart disease for people who follow the diet rich in olive oil, nuts, fish, beans, fruits, vegetables, and even wine. The diet's benefits were so convincing that scientists ended early the first major clinical trial measuring heart risks after almost five years of following 7,447 diet participants in Spain.
The test participants were overweight and smokers or had other risk factors for heart disease. The researchers divided the participants into three groups: The first followed a low-fat diet, the second followed the Mediterranean diet and were instructed to use at least four tablespoons per day of extra-virgin olive oil, and the third followed the Mediterranean diet but were to eat a one-ounce mix of walnuts, almonds, and hazelnuts daily. The Mediterranean diet also included at least three servings of fruits and two servings of vegetables daily, plus fish and legumes at least three times weekly. Those who already drank were advised to drink at least seven glasses of wine a week with meals. The Mediterranean diet groups were encouraged to avoid commercially processed cakes, cookies, and pastries and to limit dairy products and red and processed meats.
Years of evidence had pointed to lower risk of heart disease among people from Mediterranean countries such as Italy and France, but scientists needed to rule out factors other than diet. This promising study shows clear reduction in heart disease for those at high risk. More research is needed to show the benefits for those at low risk. Some nutrition experts who promote low-fat and vegan diets downplay the importance of the findings, but the proof may be in the pudding -- or at least in the peas, beans, and almonds.