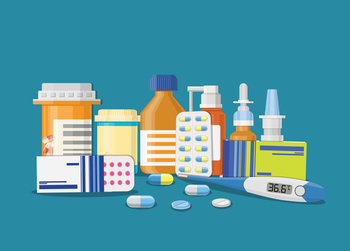 All Rights Reserved
Whether you're caring for an aging loved one or just focused on maintaining your own health, staying on top of medications can be tough, especially if you're juggling multiple prescriptions and doses. It's not uncommon for seniors to take more than one prescription a day, and with each added medication and age-related memory loss or dementia, it becomes even more challenging to keep track. The following tools and habits can also help simplify your medication routine.
1. Get organized
Organizing your medications is a simple but important first step to good medication management. To keep medications (and even supplements) organized, Sydney Ziverts, a health & nutrition investigator with ConsumerSafety.org, suggests pre-sorting at the start of every week. "This is a great way to eliminate mid-week confusion and wondering, 'Did I take my Wednesday medicines?'" she says.
A pillbox with the days of the week broken down into "AM" or "PM" should help you stay on track with a prescribed regimen.
2. There's an app for that!
For the tech-savvy senior, apps have made medication scheduling so much easier. There are several options for both iOS and Android devices, like the Medisafe Pill Reminder and Medication Tracker, which lets you set reminders and track which pills you've already taken on any given day. Additionally, CVS Pharmacy's mobile app has a feature called MedRemind which helps you maintain your medication schedule by enabling you to customize reminders and notifications than can be sent to caregivers when a dose is missed.
Using a smartphone app can be a good option since it stores all the necessary information (dosage, names, usage, etc.) for all of your medications, making it easy to answer a doctor's questions in case of an emergency visit.
3. Have a process
Taking medications accurately, safely and as prescribed is best served by having a system. "Being organized and orderly will help ensure medications are taken correctly," says Sharon Roth Maguire MS, RN, Chief Clinical Quality Officer for senior home care company BrightStar Care.
Identifying key components of the process that work best for you, such as the best time of day to regularly take medications (for instance, every morning after breakfast), best place for storage of medications (perhaps it's the lowest shelf of the kitchen cupboard) and best routine related to taking medications.
4. Time yourself
Medication adherence tools like Timer Cap include a built-in LCD timer that automatically begins counting up to show how much time has passed since the bottle was last opened, helping you keep track of when to take medication. Timer pill bottle caps reset every time the medication bottle is opened. Whether you take the medicine once a day, or every 4 hours, it's easy to tell how much time has passed since your last pill. Timer caps can be found at most major drugstores.
5. Pack them up
Eliminate the need to portion out each dose of your medicine with SmartPacks. Coordinated with your doctor to auto-renew and ship via free, same-day delivery, all of your medicines will be pre-sorted and packed into one packet for each dose, rather than several bottles you need to open and sort yourself. Your physician pharmacist can help you sign up for a SmartPack, for the same co-pay you pay at the pharmacy. Pillpack is another service that sends both prescriptions and over the counter medications to your home, portioned by dose.
6. Try a new tool
An alternative to storing multiple prescription bottles in your medicine cabinet or on your nightstand is MedaCube, a medication management tool created by a neurologist at the University of Rochester after seeing too many patients return to his office because they had not adhered to their medication protocol.
Available without a prescription, the Medacube holds up to a 90-day supply of medications. If you're 10 minutes late for a dose that's been dispensed, you're contacted via phone (call or text) with a reminder. If the dose is missed altogether or more than an hour late, a caregiver can be notified (via phone). The Medacube also keeps track of when medications need to be refilled.
7. Team up
Maguire suggests pairing taking your medicine with common routines that may help you better remember your medications. Linking medications to mealtimes is a popular option, but taking them before or after brushing your teeth every morning, before going to bed or even when you let the dog out each morning are other easy-to-remember options.
8. Stay safe
Medisafe is an app that delivers custom notifications for doctor's appointments and refills, medication updates, personalized health recommendations and discounts to help you stay organized, informed and on budget. Coordinating between a patient, their loved ones and physicians, Medisafe's "Medfriend" feature notifies a caregiver if a dose is missed. It also helps monitor progress correlated with measurements like blood pressure and glucose levels to show the direct health benefit of taking meds as prescribed.
9. Enlist a partner
This includes a family member or friend but equally importantly, the prescriber and your pharmacist. "Taking medications accurately and safely can be complex and having helpful partners to keep you on track, get you the information you need, perform necessary follow-up when side effects occur is important," says Maguire. "Consider regularly scheduled check-ins with these partners, like monthly or quarterly, depending on the complexity of your medication regimen."
10. Have a backup plan
Even with several medication management plans and practices in place, you may still encounter bumps in the road. That's why Maguire suggests establishing a plan for what to do if you run out of medications, forget to take a medication, take the wrong dose, or other potential medication mishaps.
"Think through who you need to call and then make sure you have accurate phone numbers, e-mails, and other contact information for those people or organizations like your local poison center, fire department and EMS team," she says.