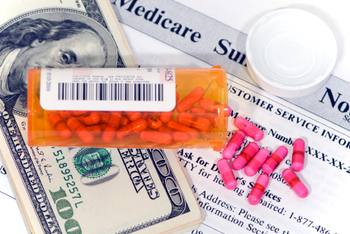 All Rights Reserved
Neither Medicare Part A nor Medicare Part B covers your outpatient prescription drugs, so if you don't have drug coverage through some other insurance, you may want to enroll in a Medicare Part D prescription drug plan to help pay for them. Or you might already be enrolled in a plan but think you could do better by switching to another plan.
Medicare Part D prescription drug plans vary from one geographic location to another. Depending on where you live, anywhere from a handful to several dozen Medicare Part D prescription drug plans might be available to you. How do you figure out what plans are sold where you live, and which one would best fit your needs? Here are the key things to consider when choosing a Medicare Part D prescription drug plan.
Learn what Medicare Part D prescription drug plans are available to you.
Medicare's official website has an online service called the Prescription Drug Plan Finder. If you enter some personal information, it can provide you with a list and contact information for all Part D drug plans sold where you live. It can also help you sort through them by matching the drugs you take regularly and the plans' lists of covered drugs.
Get extra help sorting through available Part D plans and options.
Sorting through different Medicare Part D prescription drug plans and choosing the best one for yourself or for someone you're caring for can be confusing, even with the information presented below. If you don't feel comfortable making a good decision on your own, you can get free, expert personalized help from the nonprofit State Health Insurance Assistance program (SHIP), in some states called the Health Insurance Counseling and Advocacy Program (HICAP). The counselors at a local SHIP or HICAP office have experience with the plans offered in that geographic area. Go to Medicare's list of contacts for each state's SHIP or HICAP central office, which can then direct you to the local office nearest you.
How to know if a Medicare Part D drug plan covers the medicines you regularly take
Figure out the coverage for your current medications.
To figure out what coverage for your current medicines would be like, take the following steps:
See if your regular prescription medicines are in a Medicare Part D plan's "formulary" list. No single Medicare Part D prescription drug plan covers all prescription medicines. Instead, each plan covers only a selected list of drugs, called the plan's "formulary." The formulary must include at least one drug -- and usually several -- in every pharmaceutical category (meaning at least one drug to treat every disease or condition). If you enroll in a plan whose list doesn't include all the drugs you usually take, that plan probably isn't any good for you. It would force you choose between switching drugs to something that's covered by the plan, or paying the full cost of the noncovered drugs out of your own pocket, defeating the purpose of having a drug plan.
So, your first task when considering any plan is to make sure the plan's formulary includes the drugs you regularly take. You can do this initially on the Medicare website's Prescription Drug Finder. But if you're seriously considering enrolling in a particular plan, make sure to double-check the Medicare site's information directly with the plan itself, before you enroll. Plans often change the drugs they include in their formularies, and they'll have the most up-to-date information on the drugs they cover.
Find out if there are restrictions on any of your regular medicines. Even if a specific drug is included in a plan's formulary list, that doesn't mean you'll have automatic access to it. Plans are permitted to place restrictions on drugs, any one of which could make it difficult for you to get coverage for the medicine you want. Before you enroll in any plan, check with the plan itself to see if any restrictions would apply to any of the drugs you regularly use. These restrictions can include:
Generic only. Some plans list a drug on their formulary but provide coverage only for the generic version, not the brand name.

Substituted drug. Plans are allowed to substitute a different but similar drug from the one prescribed by your doctor, though the substituted drug must be within the same pharmaceutical category. This would be the prescription equivalent of your doctor prescribing aspirin and you being given Tylenol or Advil instead.

Tiered drugs. Insurance companies may place drugs in different tiered categories, charging you higher co-payments for some tiers than for others.

Prior authorization. Plan D insurance plans may require that you and your doctor get prior approval from the plan before it will pay for a particular drug. Even if the plan authorizes coverage, it's an inconvenience for you and your doctor and can delay your getting the drug. If the plan refuses authorization, it forces you either to pay the full cost out of pocket for the drug you and your doctor prefer, or to use a different drug.

Step therapy. For a few medicines, Part D plans require a patient to try one or more other drugs -- other "steps" -- before the plan will cover the drug your doctor prescribed, and it will cover that drug only if the doctor certifies that other steps were not effective.
Figuring the total cost of a Part D prescription drug plan
To figure the total cost of a given Part D prescription drug plan, take the following steps:
Add up the Part D drug plan's initial costs: monthly premium plus deductible. Some Medicare Part D drug plans charge little or no monthly premium, while most charge a monthly premium of $25 to $50 (or even more, in a few cases). The first cost to consider is a Part D plan's monthly premium.
In addition to premiums, most Part D drug plans have a yearly deductible (limited by Medicare to $310). This means that, for drugs covered by the Part D plan, you must spend this deductible amount out of your own pocket before the plan begins to pay anything. (A few Part D plans offer what's called "first dollar" coverage, which means there's no deductible at all.) When you consider a particular Part D plan, you have to add the plan's deductible amount to the monthly co-payments in order to get a complete picture of your initial costs with that plan.
Add up the monthly co-payments the Part D plan would charge for your regular medicines. Premiums and deductibles are not your only costs with Medicare Part D drug plans. In fact, for most people the largest costs are the co-payments you must pay with each prescription you fill. The usual co-payment is 25 percent of the cost of the drug, but Medicare Part D plans often charge different co-payments for different medicines. To get an accurate picture of how much a particular drug plan would cost you, you'll have to add up what your co-payments would be for all of the prescription medicines you regularly take. First, see what the co-payment would be for the brand name or generic version of the drug, whichever is available from the drug plan. If both are available, check the figure on the version you prefer.
Medicare Part D prescription drug plans charge a co-payment per prescription filled. To know how much your co-payments will be, you need to check how many doses of your medicine the Part D plan covers in any one filled prescription. Then, to find out what that drug will cost you, calculate how often you would need to fill the prescription, based on the number of doses you take. Let's say, for example, that you take 200 milligrams a day of "Pill A," which comes in a dose of 100 milligrams per pill. That means you'd take two pills a day, or about 60 pills a month. If each prescription is for 30 pills and has a co-payment of five dollars per prescription, that drug would cost you about ten dollars a month.
See if the Part D drug plan offers any coverage in the "doughnut hole." If and when your total prescription drug costs for the year reach $2,840 (combining what the plan pays and what you pay out of pocket), you will pay out of pocket for almost the full cost of your drugs until your drug costs reach a "catastrophic limit" for the year, which is $4,550 in your out-of-pocket costs (not total drug costs). If you reach the catastrophic limit, Part D plans restart coverage, paying 95 percent of further total costs for covered drugs.
This large gap in coverage between the $2,840 (total drug costs) cutoff point and the $4,550 (out-of-pocket costs) catastrophic coverage point is known as the "doughnut hole." In this doughnut hole during 2011, a Part D plan will pay only 7 percent of the cost of generic drugs; however, you can buy brand-name drugs at a 50 percent discount. A few high-premium Part D plans pay a slightly greater percentage of costs while you're in the doughnut hole. If your drug expenses are high and you're likely to find yourself in the doughnut hole for more than a few weeks a year, this coverage may be valuable to you even though it's likely to be accompanied by a higher monthly premium.
Find out if the pharmacy where you regularly shop participates in the plan.
Most large pharmacy chains participate in most Medicare Part D plans. But it's possible that the pharmacy where you regularly get your medicines doesn't participate in a particular Medicare Part D plan that you're interested in. If so, you might be forced to go to a different pharmacy that's less convenient for you, or to order your medicines online.