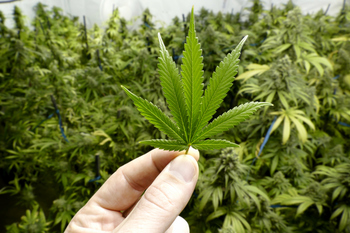 All Rights Reserved
If you or someone you love has Alzheimer's, by now you may have heard a few murmurs about the possible benefits of medical marijuana. In recent years, researchers have been experimenting with low doses of THC (tetrahydrocannabinol) and other active compounds in marijuana, studying their effects on the neurological changes thought to lead to Alzheimer's disease. Scientists are curious about both THC's potential to protect the brain from degeneration and the compound's ability to ease the symptoms of Alzheimer's and dementia.
One study, published in August 2014 in the Journal of Alzheimer's Disease, gained widespread attention for showing low-dose THC to be effective in reducing the production of the amyloid beta plaques that most experts believe ultimately cause Alzheimer's. The results from in vitro studies showed that THC boosts the function of mitochondria, the "energy factories" of cells, suggesting THC might aid brain function.
Find Memory Care Communities Near You
"Decreased levels of amyloid beta means less aggregation, which may protect against the progression of Alzheimer's disease," said lead researcher Chuanhai Cao, a neuroscientist at the University of South Florida's Byrd Alzheimer's Institute. "Since THC is a natural and relatively safe amyloid inhibitor, THC or its analogs may help us develop an effective treatment in the future."
In previous research, conducted at the Scripps Research Institute, scientists zeroed in on the mechanism by which THC seems to protect against degenerative processes in the brain. The study, published in Molecular Pharmaceutics, found that THC triggers acetylcholinesterase, a natural enzyme that prevents the formation of protein deposits.
Several teams of researchers have been testing the effects of THC and another cannabis compound, CBD (cannabidiol), in mice. CBD is the focus of much recent research because it does not cause the "high" associated with THC.
Research from Barcelona, Spain, published in the Journal of Alzheimer's Disease in early 2015, found that a combination of THC and CBD helped prevent degenerative brain symptoms in mice that had been genetically induced to develop Alzheimer's. In Australia, researchers found that mice with Alzheimer's who were treated with CBD alone improved their memory and regained their ability to recognize objects.
But don't get too excited yet. While what we know so far is very encouraging, it's extremely preliminary, experts say. Unfortunately, just because something works in cell cultures and mice does not mean it will work in humans. We need carefully controlled clinical trials to study how THC and CBD work in the human brain and, more important, whether they're safe.
That doesn't mean that people with Alzheimer's and dementia and their caregivers aren't experimenting with using marijuana, though. Look around caregiver forums, such as Caring.com's Alzheimer's & Dementia Care group and you'll find a great deal of curiosity -- and, yes, enthusiasm -- from those with Alzheimer's and their family members about experimenting with medical marijuana.
While much of the research has focused on the protective benefits of cannabis compounds (i.e., their potential to prevent disease), those living with Alzheimer's are most focused on the potential of marijuana to relieve day-to-day symptoms such as agitation and volatility. "The relaxation it brings is very beneficial," said one Caring.com caregiver who has tried medical marijuana with her mother.
Then there's the paranoia and anxiety that plague many people with Alzheimer's, which can be overwhelming to those with the disease and taxing for caregivers. Medical marijuana, caregivers say, helps ease their loved ones' fear and panic and helps them relax. "It worked quite well to chill her out and relieve her anxiety and paranoia," reported one caregiver whose mother had tried a liquid marijuana extract.
On the question of long-term health risks, caregivers are less worried about that issue, for obvious reasons. "What would be the harm?" said one Caring.com caregiver, pointing out that any health effects from marijuana would take a long time to develop, probably not a big concern for someone who already has a terminal disease.
None of this is to suggest that you should light up a joint with your loved one, though. "This research is no excuse to smoke marijuana to prevent AD," said Cao, the neuroscience researcher at the University of South Florida. It's still early days, Cao and other researchers say, and a lot more work needs to be done to test for safety and make sure the benefits outweigh the risks.
It's also important to realize that the doses researchers are experimenting with are extremely low -- nowhere near the amount you get when you smoke marijuana. And they're using carefully engineered extracts, many of which are not available in the U.S.
If you're interested in learning more about marijuana compounds and Alzheimer's, talk to a doctor and work with a reputable legal medical marijuana clinic. The American Academy of Neurology is carefully following medical marijuana research, but stated in a recent position paper that "further research is needed to determine the benefits and safety of such products."