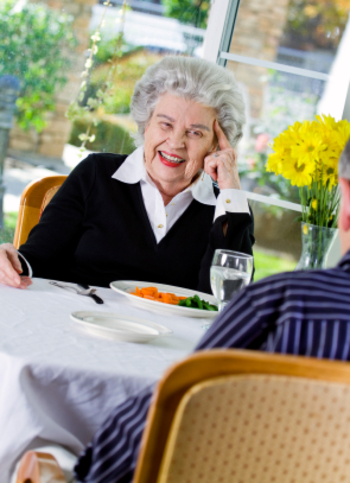 All Rights Reserved
If you're trying to arrange meals for someone who isn't suited to having them delivered, or who just wants an occasional break from that service, consider these options.
Onsite Dining
A number of organizations offer occasional or regular meal and nutrition programs at their own locations, and many also provide help with transportation for those in need. Check with local groups for availability and any special rules that may apply. For example, some organizations may not be equipped to handle diners with dementia, incontinence, or mobility limitations.
Local options may include:
Senior centers and community groups. Many offer onsite meal programs in an effort to help build community spirit or as a service to local residents. You can contact local organizations directly, or you may get targeted advice by calling your Local Area Agency on Aging and asking for programs currently being offered.
Religious organizations. Some churches, synagogues, and other religious organizations have established meal programs on site. Some also offer occasional or regular meals, often with a theme, such as Pancake Breakfasts or Spaghetti Suppers.
Adult daycare centers. Adult daycare typically includes meal services along with activities such as films and music, arts and crafts, physical exercise, discussion groups, and local outings. Check local listings or search for nearby adult daycare centers through the National Adult Day Services Association. Those who need financial help with meals at adult daycare centers may find it through the Child and Adult Care Food Program, which pays for or subsidizes such meals for some low-income individuals age 60 and older.
Grocery Shopping and Delivery
Those who can and want to prepare at least some meals at home may get needed help from local services that deliver groceries or take individuals to the store so they can shop on their own. This option requires clients to be organized enough to make their own lists of food needs, or have someone else help them do it.
Such organizations include:
Grocery store services. Many grocery stores -- especially larger ones -- offer the option of home grocery delivery. Customers can order either online or over the phone. The charge, which generally ranges from $5 to $20 dollars, is usually dependent on the number of items ordered or the total amount of the bill. Discounts are often available for frequent shoppers. To find one of these services, search for grocery delivery in your area, or contact the larger local grocery stores.
Community service groups. Some community groups, usually staffed by volunteers, offer grocery shopping services, either with or without the senior coming along. Such services are generally free or low-cost to those who meet income and age requirements, although there may be limits on the number of rides or deliveries allowed each month. Clients usually must also schedule the services in advance; a week's lead time is common. Most services will limit the time spent in a store, or they may go only to specified stores. To find this type of help, the old-fashioned method of searching a local telephone book under Community Services may be more direct than an Internet search.
Organizations with "friendly visitor" components. Groups such as Meals on Wheels and Senior Corps may arrange for their volunteers to shop and deliver groceries for those they visit.
Financial Help Paying for Groceries
A number of programs help cover the cost of groceries. Most of them have state-specific income and age rules for qualifying. They include:
Senior Farmers' Market Nutrition Program. This organization provides voucher checks to some low-income older adults, usable for locally grown fresh foods sold at farmer's markets, roadside stands, and community-supported agricultural programs. For information about participating state programs, go to SFMNP's website.
Supplemental Nutrition Assistance Program (SNAP). Formerly known as the federal Food Stamp Program, SNAP provides nutrition education and monthly monetary benefits for designated food items. To check eligibility, see SNAP's prescreening tool, under "Eligibility Requirements."
Commodity Supplemental Food Program. This organization provides food directly to some low-income individuals over age 60 who live in one of the 39 states participating in the program. Check the group's website for information on eligibility and how to apply.
In-Home Care Food Preparation
Those who prefer their food cooked at home to their own specifications but who can no longer do it alone may find the solution by hiring occasional or regular help for cooking. Costs may range from a low of $10 an hour for a private individual to $20 or more per hour for an in-home helper hired through an agency.
Word of mouth or local newspaper ads may be the best way to find inexpensive part-time cooking help. Or contact your local Area Agency on Aging and ask for referrals.
Coordinating Friends and Family
Another option is to create a family care calendar to help coordinate meals for your loved one. To set it up, ask friends and family if they can bring a meal once a week or once a month. To keep track of it all, consider a free online calendar service, like LotsaHelpingHands, that makes it easy to see who's signed up for which day -- and what meal they plan to bring. The tool also sends reminders to each volunteer to help make sure they don't forget their commitments.