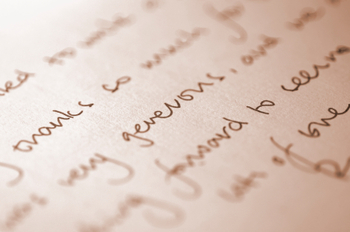 All Rights Reserved
President Abraham Lincoln, in talking about his mother once said, "All that I am or ever hope to be, I owe to my angel Mother."
Mom, no truer words could ever be spoken by a son expressing his love and gratitude for his mother.
I owe so much to you—from taking care of my brother and I when we were younger to always being there for me over the years. There was no way that I could ever repay you for all the sacrifices you made. All I could ever hope and pray for was to be the son you would always be proud of just as much as I was proud of you.
You were always there for me, Mom—and even when you were not feeling well, you still were taking care of me and making sure I was okay. I knew it broke your heart that I had to be so far away from home and separated from my family, but you always believed in me and that what I was doing was the right thing.
I am grateful that you were here for the birth of your grandson, Jeremy Aaron. And even when you were feeling so sick the last few days of your life, you were so happy when you asked me about Jeremy Aaron and how he was doing. I know he brought you so much joy as did Bia and On. I know it made you very happy that I had found someone special and that I had a family now.
On my desk is the last birthday card you sent to me. When you sent it to me in May, you were still undergoing chemotherapy once a week and radiation every day and when I read the scribbled message inside I know how difficult it must have been for you to write it feeling as bad as you did back then.
Then again, that was typical of you—no matter how sick you might have felt at times, you always remembered to send a card or ask me if there was anything I needed.
I've kept this card on my desk these past couple of months for a variety of reasons not the least of which is the verse on the front that reads:
"There's never a day that I'm not proud of you. I look at you and see such an amazing son, such a great guy—and I realize just how much I've been blessed."
Well Mom, a day hasn't gone by that I haven't thought the same thing about you.
You see, Mom, I was the one who was truly blessed. Mom, you were always an "Angel" to me, and all that I am and ever hope to be I owe to you. You are forever in my heart and I know right now you are looking down upon me and feeling very, very proud that I was your son.