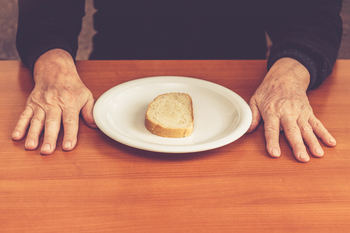 All Rights Reserved
At this very moment, an older adult you love could be malnourished.
"The United States has done a good job of making the obesity epidemic a public-health priority," wrote Encarnacion Pyle, a Columbus Dispatch reporter who covers elder issues. "But it has largely ignored the equally important threat of senior malnutrition."
Malnutrition costs the U.S. an estimated $157 billion annually — $51.3 billion for those 65 or older, according to Pyle. In fact, poor nutrition has been associated with a 300 percent increase in healthcare costs. But how is it that someone who has food available every day could end up malnourished?
Below are four things you should know about senior malnutrition.
1. Senior malnutrition isn't always easy to spot
We've witnessed the most extreme cases of malnourishment in the news, but this condition is also damaging at less noticeable levels, especially in older adults, half of whom are at risk.
"Malnutrition happens when a person doesn't get the right nutrients to live a healthful life; whether that be from not eating enough or eating too much," explains Abby Sauer, MPH, RD., a research scientist with global healthcare company Abbott. "Being malnourished causes an imbalance in our bodies, and if it lasts long, it can have a significant impact on our health."
2. Older adults are most at risk.
"The causes of malnutrition might seem straightforward — too little food or a diet lacking in nutrients," wrote medical staff at the Mayo Clinic. "In reality, though, malnutrition is often caused by a combination of physical, social and psychological issues."
The most common reason for malnutrition in older adults is extended illness when regular meals are not possible. Other seniors suffer from dental problems or lack of appetite. At times, limited income and lack of transportation may prevent seniors from purchasing nutritional foods. And in some cases, seniors may opt not to eat at all rather than eat alone and be reminded of their solitary life.
3. The health hazards of malnutrition
According to Abbott's research, one in three patients who enter the hospital are malnourished, as are 45 percent of patients who fall while in hospital care. In addition, malnourished patients face three times the risk of surgical site infections.
"The consequences of malnutrition among elders are quite severe," Howard Gleckman wrote in Forbes. "Few Americans starve to death, but people weakened by lack of nutritious food are at risk for severe health problems. They are more likely to suffer falls or bedsores, and once hospitalized, to suffer complications. They stay in the hospital longer than those who are well nourished, and their death rates are higher." Gleckman pointed out that elder malnutrition is preventable, but that it does require action by families, the healthcare system, and the local community.
4. Proven ways to prevent malnutrition
It's hard to know the specific number of older adults currently suffering from malnutrition, but experts at Abbott estimate that as many as half of hospital patients worldwide are malnourished or at risk for malnutrition. In a St. Louis Post-Dispatch article, Dr. Gabrielle Lyon cited a study showing that about 40 percent of older adults eat less than 75 percent of the recommended daily allowance of nutrients.
One of the most reliable ways to detect malnutrition is weight loss, and this may occur for a variety of reasons. For example, Mayo Clinic staff state that weight loss may be due to a change in medications that suppress appetite, or your loved one may be experiencing oral pain or chewing problems. The Mayo Clinic encourages caregivers to talk with the older adult about any changes in their medications or how they're feeling and to refer to a physician with concerns.
Here are some other ways to treat early signs of senior malnutrition.
Schedule a visit with the elderly person around mealtime, then check the contents of their refrigerator.
Offer to buy groceries or extend an invitation to take him or her shopping.
Prepare ready-made foods that are high in protein and fiber and loaded with flavor.
Make mealtime a social event. Visit often with loaded grocery bags, then offer to fix lunch or dinner to eat together.
With proper attention, you can prevent malnutrition from invading the lives of the older adults you care about. Spend time with the seniors in your life and watch for signs. By feeding those we love, we nourish the body while the act of service nourishes the soul.