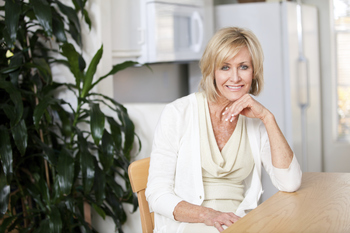 All Rights Reserved
Caregiving homes need to be free of scatter rugs and other floor clutter that can cause a fall. How do you put safety first but also create a home that's cozy and inviting?
Stencil a rug onto the floor.
It's possible to stencil tile or wood floors. Stencils can be purchased at most craft stores. Use liquid acrylics or latex for tile and a stain on wood.
Stencils come in florals, scrolls, and geometric designs. Feeling creative? You could even stencil your favorite quote or create your own design freehand. For wood floors, sand the surface lightly first, and consider finishing with a thin coat of polyurethane to give it a protective sheen.
In just an hour or two you can have a permanent and safe rug design you'll enjoy -- and your visitors will be impressed.
Go wall-to-wall.
A pricier alternative is installing wall-to-wall carpeting. Ideally, don't limit the makeover to a single room, however. Carpeting is safest when it continues right into hallways and bedroom -- eliminating the shifts in surface that are likely to cause your loved one to trip.
Introduce greenery.
Bringing the outside in can be a free way to make the home feel warmer. You don't even need a cutting garden in your backyard -- try snipping greenery (such as palms, azalea, forsythia, or tree branches) and arranging them where your loved one can't miss them.
Don't stop at the dining room table. Place a few sprays in the bedroom or in the bathroom. Bonus: Plants and flowers in the home lower stress.
Use warm lighting.
We tend to think about lighting as something functional rather than mood-creating, but it's both. One fun, easy idea to add warm, soft light to a room is to wrap curtain rods with clear Christmas-style lights. Make sure you have table or floor lamps to illuminate corners, too. Your loved one's favorite chair should have an easy-to-turn-on lamp within immediate reach.