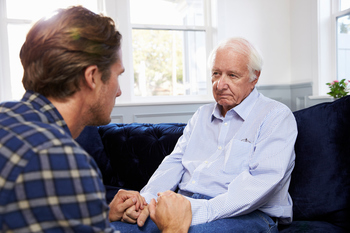 All Rights Reserved
"Congruent care" is a concept borrowed from geometry, where "congruency" refers to two things that are the same size and shape. In Alzheimer's care, it refers to making your words and your emotions match.
Your loved one's ability to perceive intent by reading your emotions is surprisingly long-lasting. You'll stay better connected to him or her (and you'll find caregiving goes much more smoothly) if your messaging is consistent.
Here are some dos and don'ts of this idea in action.
Don't calmly say, "It's time for your bath" while physically tugging the person up from a chair.
Do say, "Take your time" slowly and with a smile, rather than with a trace of impatience or while tapping your foot.
Don't grit your teeth and roll your eyes while saying, "Oh, no, I don't mind doing that."
Do accompany a loving "good night" with a smile and a gentle hug.
Read on for more tips about communicating with a loved one who has dementia: