Help Older Adults Identify Aids to Deal With Low Vision
An ever-increasing array of products is available to help people with low vision perform daily activities.
89% helpful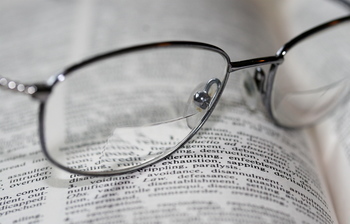 Vision aids help make older adults' lives easier
While vision aids won't provide a cure, they can make daily life a lot easier for someone with vision problems. By enabling him to continue his daily tasks and hobbies, vision aids help him maintain as much independence as possible.
There's no shortage of aids available for people with vision loss. As you explore the possibilities, you may become excited by the prospect of how a particular aid might help. Still, don't run out and buy any expensive equipment without first arranging for the person to give it a try. What will benefit him most depends on his exact condition and how severe it is, as well as his willingness and ability to use an aid.
Also keep in mind that his vision may change from day to day, or even within the course of a day. His eye doctor can you give helpful feedback about whether she thinks a specific aid will suit him.
Ideally, someone with low vision could have a low-vision evaluation and rehabilitation training in his home to best identify appropriate devices. To find out if such services exist in your area, ask his eye doctor or search on the Lighthouse International Vision Connection site. (It will also put you in touch with other low-vision resources.)
Another good resource is the American Foundation for the Blind.
Where to find products for low vision
*Talk to the person's eye doctor. She may be able to recommend a good source for vision aids.
*Go shopping. Some stores are dedicated to selling vision aids, and many such products can be found online (search for vision aids), but have the person try them out before you buy. (If you're getting a discount for buying online, make sure the product you test at a store is the same one, from the same manufacturer, that you're purchasing online.)
*Check small, local stores. Your local drugstore may have smaller items such as handheld magnifiers and magnifying makeup mirrors. And look for small, bright (LCD) flashlights at your hardware store.
Look for used equipment. There's a variety of sources for used low-vision products:
Finessing the finances
Some vision aids are very inexpensive, but others are unaffordable for many patients -- unless you're able to tap other resources.
*Talk to the patient's insurance company. These sometimes cover prescribed aids, so ask his insurance company which expenses will be covered, such as an exam, aids, and training to use the aids.
*Check with Medicare. Its policies vary from state to state. Medicare programs don't cover the cost of the aids, but in some states Medicare pays for exams and training.
*Look for sources that lend equipment free of charge. The Library of Congress, for example, lends tape players -- along with books and magazines on tape -- to patrons with low vision. You can sign up for this service through the National Library Service.