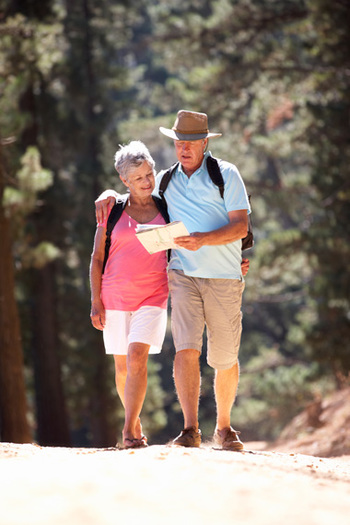 All Rights Reserved
Whether you're 8 or 80, no one wants to give up independence, choice, and control. For most of us, the desire to gain -- and maintain -- this trifecta is stubbornly embedded in our DNA.
It's no shock that many of us would rather stick our heads in the sand than think about our potential needs for assistance when we can no longer care for ourselves as independently as we once did. But the facts are too compelling to ignore: Approximately 70 percent of Americans over the age of 65 may need care -- medical and/or personal. Seniors and their caregivers will gain peace of mind by focusing now on future long-term needs.
At times, the facts around long-term care seem confusing and hard to find, leaving us asking questions. What if my loved one wants to stay in his or her home -- what modifications might we have to make? Aside from an emergency (e.g., a broken hip requiring a rehab stay), how will we know if we need full-time assistance? Will Medicare or Medicaid cover the help we need? How will we find hands-on resources in our community?
Fortunately, there's a wide array of options now for long-term care, ranging from services that provide caregiving support (companionship, transportation, adult daycare) to in-home visits from health aides and nurses to assisted living facilities and nursing homes, where care is available 24/7.
To answer your questions, spotlight these new choices, and help take mystery and fear out of the long-term planning process, HHS just re-launched LongTermCare.gov. The revamped website offers new tools and personalized resources to help seniors and their caregivers find what's best for them.
Of course, you probably don't want to think about a time when you and your loved ones will need help. But you don't want to wait for a health crisis to trigger your planning. Being forced to make fast decisions when you're embroiled in physical and emotional turmoil is traumatic. Start now and take advantage of the new and improved features of the website, including: * The PathFinder tool, which helps you better understand your options at every stage. You provide your age and then receive personalized information about what you should know and things you can do right now. * Answers to commonly asked questions about long-term care, such as when do you need it and who pays for it? The topics cover common concerns around Medicare, Alzheimer's disease, and costs of care by state.
A resource center for finding local services. Looking for eldercare support and in-home help, assisted living facilities, detailed information about Medicare- and Medicaid-certified nursing homes, and Medicaid programs near you. The website offers numerous options for support in your community.

Tools to make content easily searchable, shareable, printable, and savable. With the newly updated website, you can easily find what you're looking for, email information to loved ones, and print and save useful pages for reading later.
Preparation makes all the difference.
To start your planning now, visit www.longtermcare.gov.