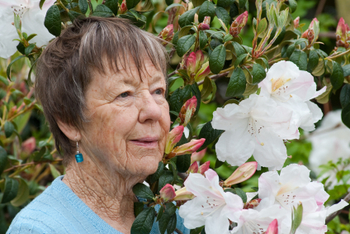 All Rights Reserved
Helen Marie "Cookie" Baldridge, age 83, died at Stratford Convalescent Center in Elmhurst, Illinois, on Thursday, June 25, 2009. The cause was chronic pulmonary disease.
Born September 30, 1925, in Pennington, Connecticut, to Sarah Ann and Eduardo Bertini, she attended the Nottingham Academy and graduated from the Newton Fashion Institute in 1948. Helen served in the Women's Army Corps until 1945, attaining the rank of chief leader—one of the first to attain that rank. On June 5, 1946, she married Harold Penfield Baldridge.
She lived in many different places -- including Florence, Italy, and Paris, France -- before settling in Chicago, where she worked at the Illinois School of Fashion as a design instructor until retiring in 1985.
Helen was a member of the Fresh Air Society, a group she founded to promote smoke-free environments after her husband died of lung cancer. An avid gardener, she was a longtime volunteer at the Meadow Arboretum, which named a hybrid rose, "Cookie's Cluster," after her. Helen was also an expert swimmer; she tried out twice for the American Olympic team and narrowly missed qualifying. She was a dedicated Scrabble player and five-time winner of the Stratford Scrabble Marathon.
Helen will be especially remembered for her quick wit, spirit of adventure, and the tenaciousness that allowed her to achieve top rankings in many diverse endeavors.
Survivors include her longtime companion, Pat Bennington, and her sister, Nancy Walsh, of Oshkosh, Wisconsin. Helen was preceded in death by her husband, Harry.
Services will be held at on 2 p.m., Sunday, June 28, at the Meadow Arboretum, 22 Oak Park Lane, Elmhurst, Illinois. Burial will be held in private. Relatives and friends are welcome at the service and the reception at the Arboretum immediately following it, from 3 to 5 p.m.
Memorial contributions are welcome and should be mailed to the Fresh Air Society, 1940 Botts Avenue, Chicago, IL 60601.
Thanks to the staff and volunteers at Serenity Hospice for their help and support.