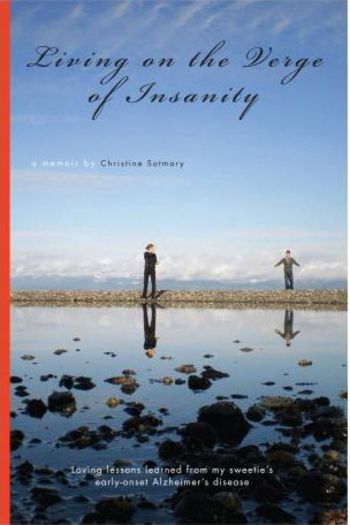 All Rights Reserved
As caregiver for her husband, Alan, who was stricken with early-onset Alzheimer's disease, Christine Sotmary spent eight years dealing firsthand with the roller coaster of emotions that accompany long-term caregiving for a loved one. Her book, Living on the Verge of Insanity, is a memoir of her time as caregiver, filled with stories and experiences that can serve as a road map for other caregivers.
This book is a very personal story of your time as caregiver for your husband, Alan. Who would you say is the target audience for the book?
Christine Sotmary, author: Definitely others who are sharing a similar journey would benefit from reading this book. Just the title of the book, Living on the Verge of Insanity, makes other caregivers smile. We've all been there at times. Caregivers are often very busy, so I set the book up so that the reader can go right to the topic that they are dealing with at the moment. This is not a self-help book filled with advice, but rather the reader can take the experiences they are reading about and shape the solutions into a plan for themselves.
What advice do you have for caregivers as they transition from "normal" life to that of caregiver for a loved one?
CS: Don't take on the big picture too early. One day at a time is a good philosophy, because there are always so many unknowns. Even getting a diagnosis can be a challenge. Not knowing how long things will take to play out, or how severe the situation will be, or how everyone including the caregiver will be able to cope all give a level of uncertainty when looking at the whole picture.
What are the biggest misconceptions friends and family members have regarding your experiences as primary caregiver?
CS: When I would go into social situations with Alan, I would always hear about how great we both seemed to be doing. I think that people would have had a different opinion if they had been a fly on the wall in our home. Caregiving is a roller coaster of emotions, and no one does it great all the time. In the privacy of our home I would get upset, angry, sad. All sorts of crazy thoughts would occur to me as I would drift off to sleep, but no one saw that side of things. That's why I wrote the book.
What advice do you have for friends and family who want to help but are unsure of how to do so?
CS: Ask questions. Be patient. The caregiver doesn't always know what they need. Making a few suggestions may help. Offering to cook a meal, shop, do laundry, give a break, read the paper, escort the care recipient to the doctor are great ideas to start with. The friends and families may think they know what's best, but that can backfire. It's probably best to give the decision about how to help to the caregiver so there are no misunderstandings.
What are some of the warning signs that the time has come for the caregiver to seek professional assistance in caring for their loved one?
CS: In my case, I felt like I was changing into a person I didn't like very much. I was no longer proud of the care I was giving, and I was being overwhelmed with negativity. It crept up slowly, so I was a bit late in getting the help I needed. Once I started reaching out, I found the supports I needed. Warning signs in the caregiver can be weight loss, loss of appetite, hair loss, crying jags, a short fuse, social isolation, depression, exhaustion, or any number of health issues. Adult daycare or having someone help in the home are great places to begin getting help. I learned that these professionals have a very different skill set and I learned to trust that they would care for Alan in a way that I was no longer able.
Caregivers often report a feeling of guilt when they take time to address their own needs. When do you know it's time for "me"?
CS: It's always time for "me," but that may just involve experiencing the satisfaction of being a really great caregiver. What's difficult in caregiving is that there are so many issues to deal with that the burdens can threaten the role itself. I recommend that others in the community or in the family keep a close eye on the caregiver to see if they need a break or are beginning to lose themselves in the caring. There are hundreds of books that tell caregivers to take time for themselves, but even taking time for a quiet cup of tea can be a challenge. I believe others have to be involved in the care for the caregiver.
Caregiving for someone with Alzheimer's means that, over time, certain parts of life that were once normal, such as driving, become off-limits. How do you suggest handling these transitions?
CS: Sometimes professional intervention is best. When the person with Alzheimer's hears something from their doctor or the Department of Motor Vehicles, it sometimes goes over better. It is very common to have difficulties when the primary caregiver needs to take away certain privileges, like driving, and it turns into a power struggle.
As with all people, the time comes when the person for whom you are caring passes. Many caregivers will have spent months, years, perhaps even more than a decade in the role of caregiver. Apart from the obvious sadness of losing someone you love, how does that impact the caregiver?
CS: I call it "the other empty nest." There are many books written for parents when their children leave the nest, but nothing for caregivers who may have spent the better part of their lives caring for someone who has now passed. Not only have they lost the relationship but they have lost the identity that they have known for themselves as a caregiver. The next steps are unclear and the challenges are many. We often reflect on the effects of our years in high school or college, on the effects of going to war, on the effects of the profession we have chosen, but what about the effects of being a caregiver? What did it mean to us, and what do we share with others who have experienced a similar path? They say that more and more children are caring for grandparents or their own parents. What kind of person comes out of that kind of devotion? Are we seeing former caregivers who have more empathy for others, are better problem solvers, are more confident advocates, are better listeners? Are former caregivers better at relationships, better employees, better politicians, better community organizers? I look forward to the day when a job application will ask the question, "Have you ever been a caregiver?"
Lastly, where can Living on the Verge of Insanity be purchased?
CS: Caregiver Access, P.O. Box 513, Crompond, NY, 10517
$20.00 made out to Caregiver Access includes shipping and handling.
Or look on Amazon.com.