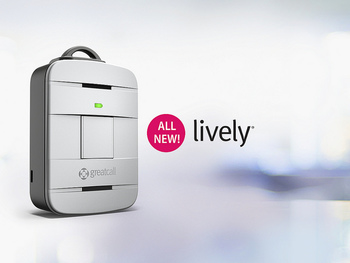 All Rights Reserved
"I worry a lot about my father-in-law falling in the yard," said Diana L. as she surveyed the urgent response devices on the table.
Diana was part of a group of caregivers gathered at Caring.com headquarters recently. They were there to try out several new products from GreatCall, a company based in San Diego, California that specializes in electronic devices for active seniors. GreatCall is known for making highly rated products like the Jitterbug phone, so when the company reached out to us about their medical alert device called the Lively, we were eager to give it a try.
We had both caregivers and seniors try out the device and give us feedback, which we've summarized below.
What is the Lively?
The Lively is an easy-to-use medical alert device that seniors can use around the house or slip into their pocket if they're going out. Press the one button on the device and it will automatically connect you to GreatCall's highly rated 5Star Urgent Response service. Your loved one can simply speak into the device to communicate with the 5Star Urgent Response agent. Meanwhile, the agent can use the device's GPS to send help directly to your loved one's location. The battery lasts 24 hours, so just charge it at nighttime to keep it going (and if you forget, the device will beep loudly to remind you once it's running low on charge).
The Lively also comes with a comfortable lanyard that lets your relative wear the device around his or her neck. When worn around the neck, the device can act as a fall detection sensor, automatically alerting help if needed.
What our testers liked about Lively
The Lively has all of the essential features of a modern medical alert system, such as being waterproof and GPS enabled. Our testers also liked the following aspects:
1. Fast access to medical services
The Lively features one prominent button, so there's no fumbling about what to do if you need to call for help. GreatCall says their 5Star Urgent Response service offers the fastest agent response time, so we gave it a try. Indeed, within seconds of pushing the button on the device, we were connected with a friendly 5Star agent on the other end. "It's like a super fast 911!" one tester said.
GreatCall also makes a family caregiver app called "Link" for iPhones and Android phones. With this app, you are instantly notified if your relative calls for medical help or if their device is running low on battery.
2. Convenient to carry around
"I like how the Lively is big enough to find in your purse, but small enough to carry it around," one tester remarked.
We agree -- many systems today come with different items for indoor use versus outdoor use. But with the Lively, you just need to keep track of one device, which we found convenient. For instance, keep the Lively by your bed or chair at home. When you're headed out the door, just slip the device into your purse. Or if you prefer, wear the device around your neck whether you're inside or outside. Since its waterproof, you can also keep it on in the shower.
3. Easy on the pocketbook
There's no price too high to pay for peace of mind about your loved ones. That said, we found the Lively pricing to be very reasonable compared to other services on the market which can cost up to $40 per month. Many of our testers were also pleasantly surprised by its affordability.
The Lively device itself costs $49.99 and comes with the charger, accessory clip, and pendant lanyard. To get access to the 5Star Urgent Response service, you choose between 3 plans ranging from $19.99 (basic access to 5Star) to $34.99 (5Star access plus fall detection, among other benefits), plus government taxes, fees and surcharges.
Besides the one-time $35 activation fee, there are no other fees, contracts, or cancellation fees.
Who should get the Lively?
The Lively is great for people who:
Want a simple urgent response and/or fall detection device, without a lot of extra frills
Want just one single device for indoor and outdoor use
Don't want to wear a device. You can easily put the Lively in your pocket.
Don't want to use a dedicated landline for their device, or want to have help on the go. The Lively runs on a mobile network.
Don't mind charging the device once a day
All in all, our seniors and caregivers gave the GreatCall Lively two thumbs up. A tester summed it up nicely: "It has all the right features and I would feel a lot more comfortable knowing my mom has help at the tip of her fingers."
To find more info about the Lively medical alert device, visit the GreatCall website. You can buy the Lively from their website or from Amazon.