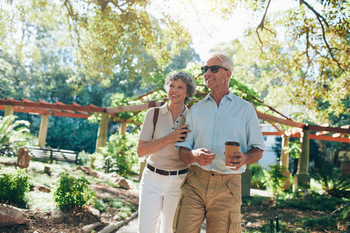 All Rights Reserved
Since they were teens, baby boomers have done things differently. It's little surprise that they're revolutionizing retirement, reinventing themselves and changing the senior living industry completely. The senior living communities that are most attractive to this generation aren't just residential care providers. They're vibrant villages that offer a range of residential options and new opportunities for creative, educational, and personal exploration.
Many baby boomers are finding that Life Plan Communities, also known as Continuing Care Retirement Communities (CCRCs), offer the mix of features and amenities they're searching for, according to Senior Planning Services, a company that specializes in helping seniors navigate Medicaid-sponsored senior care.
What Are Life Plan Communities?
Life plan communities are designed to offer more than one level of care on a single campus. They range from seniors who want an increased sense of community and connection to those who need more assistance and care. These communities tend to focus on active lifestyles and opportunities for seniors to get involved, be a part of their community, and to give back, both to the Life Plan Community and to the community as a whole.
Designed for Younger Seniors
As baby boomers age, more and more will be seriously considering senior living options within the next decade. The goal of Life Plan Communities, however, is to encourage seniors to find a senior living option earlier on.
For many younger seniors, downsizing and moving into a smaller home in a Life Plan Community is an appealing prospect. These communities offer a supportive, interconnected environment while allowing residents to continue to live independently and with the personal freedom they've come to expect.
From Passive Care to Active Living
The shift to Life Plan Communities isn't just about a new name. It also emphasizes a critical shift in senior living offerings from passive care to more active living and advanced planning. This change is well aligned to the active seniors of the baby boomer generation.
The changing desires of the senior care industry's target customers make it necessary for the industry to adapt in response. Baby boomers complained that Continuing Care Retirement Communities made them think of old people sitting around staring at one another and withering away, perhaps playing the occasional game of shuffleboard to keep things interesting. The name "Life Plan Communities," however, evokes an image of a more vibrant, active image lifestyle that is desirable to today's seniors.
Life Plan Communities and baby boomers are inextricably linked, as these communities reflect the changing needs of today's seniors. Older adults are now living longer than ever, and they want to remain part of their communities and their loved ones' lives for as long as possible. Life Plan Communities rose out of those evolving needs. With careful planning, today's seniors can expect to experience very different retirement years from the generations that came before them.