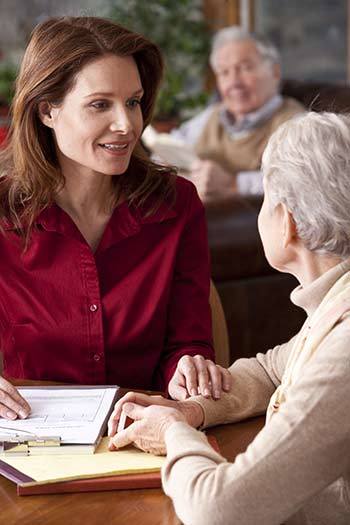 All Rights Reserved

There are more than 40 million people in the U.S. over the age of 65, representing roughly 13 percent of the population. There are nearly 6 million people in the U.S. over the age of 85, representing roughly 2 percent of the population. At current growth rates, these numbers are expected to double by 2050. At some point most of these seniors will require care, be it adult day services, home health, hospice, nursing homes, and/or continuing care services, to name but a few. LeadingAge is an association that binds together the myriad organizations that serve and work on the behalf of seniors in order to make America a better place in which to grow older. Larry Minnix is the CEO of LeadingAge.
The LeadingAge community binds together 6,000 not-for-profit organizations in the United States, 39 state partners, hundreds of businesses, research partners, consumer organizations, foundations, and a broad global network of aging services organizations that reach more than 30 countries. What are the services LeadingAge provides for this community?
Larry Minnix, CEO: The work of LeadingAge is focused on advocacy, education, and applied research. We promote adult day services, home health, hospice, community-based services, PACE, senior housing, assisted living residences, continuing care communities, nursing homes, as well as technology solutions and person-centered practices that support the overall health and well being of seniors, children, and those with special needs.
In terms of advocacy, what are the key issues impacting seniors today on which LeadingAge is currently focusing?
LM: LeadingAge is a staunch advocate for aging services providers and the seniors they serve. The issues that are most important to us include long-term care financing; affordable senior housing; effects of potential cuts to Medicare and Medicaid; and home and community-based services for the aging, including home health, adult day, and transportation. Recent advocacy efforts have centered on preserving the charitable tax deduction and preventing across-the-board cuts to programs that are important to seniors. We urge Congress to take a fair and balanced approach to reduce the deficit, instead of sequestration, which imposes a disproportionate burden on those least able to sustain cutbacks in healthcare, housing, and long-term services and supports. In addition, our Policy Congress is a newly developed body comprised of members who are focused on policy change and who are helping LeadingAge by participating in grassroots and grasstops advocacy. The Policy Congress has recently issued a set of Policy Principles based on the work of ten issue-based work groups that were described under the following topic domains: Finance, Quality, Regulation, Current Models of Care Delivery and Payment, and New Models of Care Delivery and Payment. The Policy Principles will be used to guide LeadingAge's advocacy efforts in the years to come.
How would you describe typical LeadingAge members? Are they individuals, organizations, businesses?
LM: Most of LeadingAge's members are not-for-profit providers of aging services. This umbrella category includes assisted living organizations, nursing homes, housing organizations, providers of home- and community-based services, and Continuing Care Retirement Communities (CCRCs). We also have business associate members, research partners, and relationships with consumer organizations. Our Center for Aging Services Technology (CAST) has its own membership structure as well. We are looking to expand our membership even further in the years to come, to include more think tanks, hospitals, and professionals.
What are the main benefits your membership base derives from LeadingAge?
LM: LeadingAge members usually join through their state association, and then are granted joint membership to LeadingAge. Benefits include access to our annual meeting, the largest annual conference for aging services providers; and PEAK Leadership Summit, our spring advocacy-based annual meeting. In addition, other benefits include:
Advocacy and public policy
Professional development opportunities
Leadership and networking
Savings and value through ValueFirst, a group purchasing organization
Information and resources, available through exclusive listservs and publications, and access to a broad array of not-for-profit organizations under the LeadingAge umbrella
Assistance and support in areas ranging from communications to governance
In what ways are LeadingAge members able to get involved?
LM: LeadingAge members are able to attend our conferences and take advantage of numerous educational opportunities. In addition, staff members may apply to be part of our Leadership Academy, Policy Congress, and other groups that communicate through topical listservs and meet in person. Large-scale grassroots efforts ensure that our members have an opportunity to advocate on behalf of aging services providers and the seniors they serve. The Contact Congress feature of our website allows members to easily and efficiently take part in grassroots advocacy by contacting their representatives. Additionally, members belong to a wide variety of task forces, work groups, and networking groups based on interests including marketing, HR, and chief operating officers.
Education is a core focus of LeadingAge. What types of programs are provided?
LM: LeadingAge provides more than 200 education sessions with associated Continuing Education credits during our annual meeting, plus world-renowned general session speakers. This year's speakers included Archbishop Desmond Tutu, Atul Gawande, and Joseph Coughlin. The PEAK Leadership Summit offers similar opportunities, with a variety of session formats including:
Symposium. A case study analysis of new business models being developed by LeadingAge members. The expanded presentation format facilitates peer-to-peer sharing of information.

Workshops. High-profile authors guide half-day or full-day intensive study of their books. Group discussions and hands-on exercises are designed to enable teams to apply the skills and ideas presented.

Learning Circles. Experts in the field explore key issues facing not-for-profit providers. The use of adult learning methodology and the interactive nature of the format offer a unique opportunity to delve deeper into the content.

Roundtable Discussions. Member-driven conversations designed to help peers learn from diverse perspectives, generate new ideas, and challenge existing practices. Format allows for informal, generative discussions in a group setting.

Education Sessions. In-depth panel discussions developed around a variety of policy and strategic topics relevant to leaders in aging services. Format allows for shared learning among peers.

General Sessions. Nationally-recognized speakers provide insightful, inspirational, and motivating presentations. The content highlights the leadership and advocacy themes of the conference.
In addition to our annual conferences, LeadingAge offers members access to a Knowledge Center that includes audio and video recordings of past presentations, as well as opportunities to attend webinars on "hot topics" in the field through our Live Learning Series. Our latest webinar attracted more than 600 participants.
As a way to develop leaders in the field of aging services, LeadingAge established the Leadership Academy, a graduate-level curriculum grounded in evidence-based practice and experiential learning. Throughout the year-long program, Fellows explore diverse perspectives from aging services leaders, learn from innovative care and service models, enhance their leadership skills and core competencies, and advance person-centered programming in aging services.
What types of information does LeadingAge provide for the general consumer?
LM: LeadingAge provides information on our website about choosing, paying for, and navigating aging services. Our helpful directory of LeadingAge members allows consumers to find our not-for-profit members nearest them. Through a partnership with NextAvenue, a project of PBS, and through our own website, LeadingAge offers valuable content for consumers. We gather consumer research that focuses on topics like ageism, hunger and nutrition, health and wellness, trends in aging, and choosing the right services and providers.