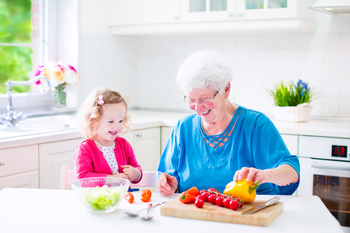 All Rights Reserved
Helping someone who's had a stroke prepare and cook food
The kitchen can be a dangerous place for someone who's had a stroke. You and the person you're caring for will need to decide whether or not he can safely prepare meals on his own, but a few modifications may enable him to help someone else cook for him or even make a snack for himself.
Preparing Food
If he's in a wheelchair , he won't be able to reach standard countertops. If modifying the height of all of the countertops is too expensive and labor intensive, lowering one area and removing the cabinet beneath it might be a good compromise. You could also set up a separate table with a butcher block surface for food preparation.
A side-by-side refrigerator (with a fridge on one side and a freezer on the other) makes accessing frozen foods much easier, especially if he's in a wheelchair.
Place frequently used foods and spices in an easy-to-reach area. If he has a hard time reading small print, you might want to buy labels at an office supply store and rewrite the names of the foods and spices in large, block letters.
Nonskid Dycem material can be used to stabilize bowls while mixing or stirring.
If he has trouble with one or both hands, slicing fruits and vegetables may be difficult or impossible. You can do the slicing for him, or check your grocery store's selection of presliced produce. If you think he can manage it, you could buy a cutting board with suction cup feet and a vise to hold fruits and vegetables. A rocking knife also makes it easier to cut with one hand.
A food processor can be used for mincing or dicing.
You can purchase one-handed jar openers and can openers from stores and websites that sell adaptive aids.
Cooking food
Using the stove can be difficult for someone in a wheelchair, especially if the oven is directly below the range. It's possible to install a freestanding cooktop at a height he can comfortably reach.
Look for stove controls on the front of the stove so he doesn't have to reach over burners to adjust the temperature.
Angle a mirror above the stove to reflect the contents of pots and pans. If he's in a wheelchair, he'll still be able to see what's cooking.
Place a canister of baking soda next to the stove in case of grease fires. Also, make sure there's a fire extinguisher within reach.
Make sure oven mitts and potholders are in plain sight so he doesn't forget and accidentally grab a hot dish. Some mitts come with magnets sewed into them so you can stick them directly on the front of the oven.
Not every meal needs to be cooked on the stove or in the oven. You can get a lot of mileage out of a microwave or toaster oven. A crockpot is also a great way to prepare meals. Freeze individual portions for quick reheating.
It's probably a good idea to buy appliances with automatic shut-off controls in case the stroke survivor forgets to turn them off.
Helping someone who's had a stroke wash dishes
If the person is in a wheelchair, he won't be able to reach a standard sink. Lowering the sink isn't enough. You'll need to install one that's fairly shallow so he can reach the bottom and have room underneath for his legs. As with the bathroom sink, be sure to insulate any exposed pipes to prevent burns.
Install lever-handled faucets that he can turn on and off with his wrists or arm.
Place a dish drainer in the sink to hold dishes steady while washing and rinsing. Clean dishes can then be placed in a separate drainer on the counter to dry.
Transfer dish soap from a squeeze bottle into a container with a pump top. You can also buy sponges with handles that can be filled with soap.
Since making the right home modifications can make a huge difference in both of your lives, it may be helpful to consult an occupational therapist (OT). An OT can take stock of the stroke survivor's specific disability and the current state of your home, then make suggestions based on his particular needs.

The National Resource Center on Supportive Housing and Home Modifications has compiled a list of resources for consumers looking for products to modify their homes.