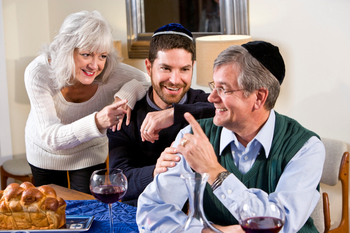 All Rights Reserved
Are you looking for assisted living facilities and senior care that follow Judaic teachings? Consider Jewish assisted living facilities. You can consult your Rabbi or others in your temple community to see what residences they might recommend. But bear in mind that, according to AARP, there is no single standard for assisted living facilities, so you and your family will need to do your homework on facilities that advertise themselves as Jewish assisted living facilities before committing. So once you have a list of potential facilities, in addition to assessing how they meet your loved one's care needs, use the checklist of questions below to understand how they follow Jewish practices.
1. How are your aides and healthcare workers taught about Judaism?
There are many people employed in assisted living facilities, so chances are good that some or all of the staff providing direct care are not practicing Judaism. However, a Jewish assisted living facility should invest in training employees to understand the rituals and expectations of the Jewish community while at work.  "As a part of their training, we offer four in-service trainings a year," says Gregg Rosen, MPA, COO of Marquis Home Care in Spring Valley, New York. Additionally, workers are given printed materials that explain Judaism, the Jewish holiday calendar, and the expectations of the facility. Rosen explains that all the board members for Marquis Home Care practice Judaism, which helps inform the regulations and expectations of the care providers. A follow-up question might be whether or not you and your loved one can interview any regular care providers to make sure they are a good fit. It is always a good idea to visit the facility once or twice before making a decision.
2. Are all meals, snacks, and beverages Kosher?
Ask to see sample menus. You can also ask to see any documentation to support Kosher certification. Each facility might have different expectations for Kosher food provision, so feel free to ask whether the food is prepared on-site and whether non-Kosher food can be brought into the facility.
3. Are traditional food prepared?
If your loved one has a specific culinary heritage that they enjoy, ask about whether those meals can be prepared or brought in to the facility.
4. How does your facility observe the Sabbath?
Ask a similar questions about all holy days and holidays. Ask to see a calendar.
5. Which Rabbi and synagogue are primarily affiliated with your facility?
As a corollary, you might want to ask whether your loved one can stay connected with their home synagogue and community. You might consider meeting with any rabbinical staff at the assisted living facility before committing. Also consider asking about transportation to and from the synagogue or faith-related events.
6. Which Jewish rituals and observations are available at your facility?
Ask about how the facility handles observances that are a particular concern for you, such as respecting gender separation or sitting shiva.
7. Which language services are available?
Rosen emphasizes that his program includes fluent speakers in a number of languages, including Yiddish, as well as the flexibility to find translators as needed.
8. How do I report any concerns to administration?
All assisted living facilities should provide you or your loved one with a way to ask questions or report concerns. Rosen emphasizes that any concern you have, including discomfort with the way in which a caregiver is cooperating with Judaic law and tradition, is worth calling about promptly.
In addition to getting answers to the above questions, take the time to identify family members who understand your loved one's faith and personal preferences should any difficult health decisions need to be made. Rosen emphasized the value of getting your legal paperwork in order before committing to an assisted living facility. This means choosing someone you trust to act as a healthcare proxy who can make decisions if you or your loved one can not. He points out that this is a concern for everyone, not just those considering a Jewish assisted living facility. "You'd be surprised how many people do not have them. A healthcare proxy is something people don't realize is important," he says.
Looking for assisted living facilities? Search our comprehensive assisted living directory to find assisted living facilities near you.