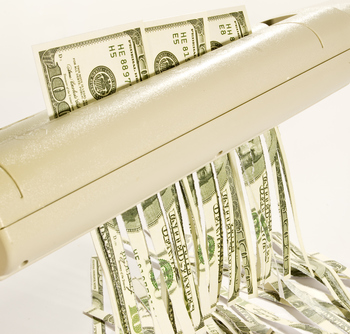 All Rights Reserved
Your loved one has passed. You drive to their care community, enter their room and find their bed covered with a pile of money – over $1 billion. In shreds. That's what one elderly woman did—destroyed 950 million Euros (over $1 billion) in an attempt to block her family members from inheriting her assets.
Family squabbles over money and property aren't all that uncommon. Inheritances have been left to cats, dogs, birds, and even inanimate objects. Many families struggle with the distribution of assets for various reasons. What's the best way to handle financial issues? Start with one simple question.
How long has it been since you updated your will?
Perhaps you drew up a will decades ago. Maybe you feel differently about the arrangements you'd like to make today. One of the simplest and clearest ways to ensure your assets are respected is to update your will. And while you're at it, take a good look at all of your finances, including IRAs, savings accounts, stock options and other investments. Many older people stop checking their financial statements or allow others to manage their finances for them, so if you're a caregiver, it's time to find out what's really going on.
It's best to contact an elder law attorney or family wealth advisor to help manage your assets, but drawing up a Will may not be enough, says Certified Elder Law Attorney Rebecca L. Berg.
"A Last Will and Testament is not a sure way for your intended beneficiaries to receive your assets," she explains. "If, for example, you put your neighbor as the beneficiary of your IRA, he or she will get your IRA regardless of what your Will says. Or, if you add a cousin to your bank account as a joint owner, your cousin will receive that account at your death even though you thought you were giving it to your son in your Will."
What if you want to contest a will?
You have concerns. Your older loved one's finances are a mess, and you're not sure who's had access to their information. You may have suspicions that another family member, love interest, professional caregiver, or even a charity has more sway over your loved one than you feel comfortable with. Or…you've received the news that the Will's been changed. Do you have any recourse? Berg says the answer is yes.
"On the flip side of this issue, your heirs can challenge your Will if someone has unduly influenced you into naming him or her as a beneficiary to the exclusion of family members," she says.
Assuming your loved one doesn't want to destroy their life savings, they would do well to take a proactive approach and deal with any financial issues now rather than later. If not, they could end up like our Austrian friend. (And in the end, her assets may still wind up in the hands of family members against her wishes, MSN News reports. If the origins of the money can be verified, banking laws ensure that it can be replaced).
The best way to avoid financial misunderstanding is communication—and respect.
Talk early with your aging loved one about their financial wishes and keep talking. Be as transparent as you can and make sure that everything is up-to-date. As uncomfortable as it may be to bring up the subject of money, do it anyway. Show concern and keep the conversation going. It's worth a few minutes of awkwardness to clear up issues and concerns so that you and your loved one's choices are respected.