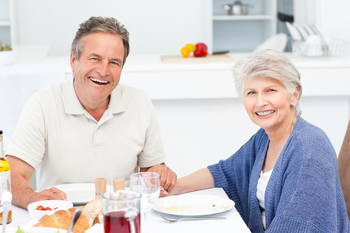 All Rights Reserved
For many seniors, the thought of leaving their homes to move into a senior living community is unsettling. It is widely assumed that the only other option when moving out of one's home is to move into a nursing home. Adult children, also unaware of the range of choices, often put off discussions of moving parents into a senior living community due to the misconceptions associated with "nursing homes." However, this does not have to be the case. Never before have there been so many choices and solutions for retired seniors looking to make a move.
What is often overlooked is the fastest growing option in senior living: independent living communities. Independent living communities offer a solution for seniors looking to simplify their lives, but who do not necessarily need the individual attention found in nursing or assisted living homes, including medical or personal assistance with everyday tasks such as bathing, dressing and medication management. In most independent living communities, residents care for themselves, but are able to enjoy a simplified lifestyle—free from everyday worries and chores such as cooking, cleaning, driving, or home maintenance.
While every independent living community is different, many of the leading providers feature communities that offer the following:
Chef-prepared meals made daily
Activity and wellness coordinators that plan numerous events for the community
Weekly housekeeping and linen service
Local transportation services
suites that include kitchenettes or even full kitchens
Live-in management and/or 24-hour security
Chapel services
Travel programs
On-site barber shops and beauty salons
A concierge service
Management staff generally keeps a watchful eye over residents, and in most communities there is 24-hour staffing and building security. In an independent living community, residents maintain their independence, living in a private suite, coming and going as they please, and making the choices that are right for them.
Paying for Independent Living Communities
Independent living communities are private pay. Some require an entrance fee, also called a "buy-in" fee, while others merely require a month-to-month all-inclusive rent payment. Depending on the community's individual rules, you may be able to hire in help, such as a caregiver, and manage these services on your own.
The cost of an independent facility is generally quite a bit less than assisted living or nursing homes—and may be less expensive than living at home. Prices range widely, depending on the size of the suite and the services offered by the community. When you take into account the items and services that are provided for the price of residency at an independent living community, the cost may actually be less than that of maintaining a home.
In order to figure out how to pay for an independent living community you should consult a financial planner and factor in what your costs of living are now, what they would be in an independent living community, while also keeping in mind what your long-term care financial needs may be. Gilbert Guide can help you navigate through this (at times) tricky territory:
How to Find the Right Independent Living Community for You
So, where do you go from here? Good research is critical -- begin early. Caring.com provides a national database of independent living communities. Also take a tour of local independent living communities. Find out what amenities they offer. Ask to have a complete cost analysis up front, with every charge detailed—be wary of any extra fees or hidden costs. You may even want to ask for a trial stay. Most independent living communities will be happy to have you stay as a guest for a night or two, in order to get a better idea of what the lifestyle and environment is truly like within the community.
Talk over the options with family and friends. Moving is never an easy decision and should not be done hastily. Once you've found the right place, contact the administration and let them know you are interested. Many have waiting lists, so it is wise to get on that list, even if you're not quite ready. The most important aspect of this process is to make the choices that will make you the happiest. Examine what is important to you, investigate the options thoroughly, and then pursue the path that best suits your own personal wants and needs.