7 Tips for Improving Mealtimes After a Stroke
91% helpful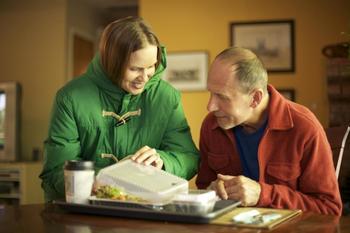 Mealtimes can be a challenge for someone who's had a stroke -- not to mention the caregiver. These tips will help take the stress out of eating.
1. Schedule regular meals for when the stroke survivor is at his best--and allow enough time.
Mealtimes can be hard for a stroke survivor at the best of times, but they'll be even more difficult if he's tired, very hungry, or uncomfortable. It's best to schedule meals at regular intervals, at the same time each day. Make sure the person in your care is rested and comfortable. Don't schedule meals immediately after medications that might cause nausea.
Also, make sure he has enough time to eat without feeling rushed. Allow at least 45 minutes for him to eat, and then have him sit for another 45 minutes after eating so he can properly digest his meal.