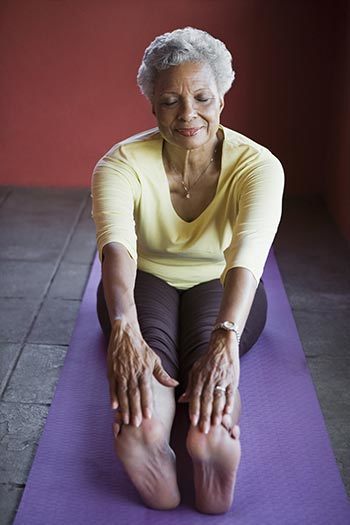 How can I find a class an older adult will like?
Barring a doctor's restrictions, an exercise class can be a great way to improve an older adult's health. A good exercise class will help build her strength and flexibility and improve her balance so she's less inclined to fall.
Key to getting her started is finding the right class. Older people worry that they'll end up in a class of 20-year-olds jumping around in spandex, according to findings by a study of participants in a fall prevention program designed by the Washington State Department of Health. Researchers also found that older adults, like any age group, want to go to an exercise class that's fun.
Researchers also learned that older folks are more inclined to return to a class if they feel confident that the instructor knows how to work with their age group. "They have to hear from the instructor that they can work at their own pace and be told that if something hurts, don't do it," says Sally York, MN, RNC, the interim director of the Northwest Orthopedic Institute, one of the study sites in Tacoma, Washington.
York and her colleagues also found that older adults, much like their children, can be competitive. "They wouldn't go back to a class after taking a break for a health condition, because they were embarrassed that they couldn't keep up with the class," says York. This is a good reason your friend or relative should look for a class where instructors are trained to encourage participants to return and not feel disheartened that they're not caught up. Equally important, says York, those who've missed exercise classes need to start out slowly and build up their strength again.
How can I find a class that will be safe for an older adult?
The best bet is to look for classes offered by hospitals with rehabilitation centers. Or search out facilities affiliated with your area's department of public health, agency on aging, or organizations like the Arthritis Foundation. One instructor to 20 students is an ideal ratio, according to the Arthritis Foundation, unless there are assistants to help students.
Prior to the start of class, the instructor should ask about each student's health history and should be able to modify exercises to accommodate participants' needs, according to Lisa Cirill, the acting chief for the California Center for Physical Activity, located in Sacramento, California. "You should find out from the instructor if she's trained specifically to work with an older population," says Cirill, who was an investigator on a five-year study of fall prevention programs in California that serve 7,000 older adults. Cirill believes that once you've found the right class, you'll see improvements. "We had classes with very frail older adults who couldn't go to the restroom without an attendant," she explains, and they no longer needed help. In fact, the more weak and out of shape someone is, says Cirill, "The quicker his or her response to exercise."
Reduce Risk of Falling with Exercise
What exercises reduce the risk of falling?
Many organizations and senior centers offer exercise classes that can help keep people steadier on their feet. The Arthritis Foundation , with chapters around the country, offers a variety of classes, and they're not only for those with arthritis.
Classes are an hour long, can be done sitting down or standing, and have a changing repertoire of 72 approved exercises, says Kathy Schmidt, a teacher trainer with the Arthritis Foundation. The classes include joint warm-up exercises, endurance, balancing, and bone-strengthening exercises, like walking or marching in place. And if someone can't do an exercise, instructors are quick to come up with an option. "If a participant can't put her hands on her head for an exercise, we might have her do shoulder rotations as one alternative," says Schmidt.
Another offering by the Arthritis Foundation and other community programs is tai chi, an ancient Chinese martial art that's gentle, fluid, slow-moving, and backed by research that shows it can help prevent falling. Several studies have shown that tai chi improves balance and reduces the risk and the fear of falling among older adults. In one study, 123 people between the ages of 70 and 92 who took tai chi three times a week for six months had a 55 percent lower risk of falling than a comparable group who didn't take classes.
Preventing Falls With Strength and Balance
How can I tell if an exercise class is helping to improve balance and strength?
Many exercise classes designed to prevent falls include some basic tests that instructors ask the class to perform periodically to measure changes in balance and strength.
In Twin Falls, Idaho, for example, Elvia Caldera, a health education specialist and injury prevention coordinator, has built into her "Fit and Fall Proof" exercise program a standard test used by doctors that times how long it takes someone to get up from a chair, walk across the room, turn around, and come back. The better someone's balance is and the stronger her legs are, the less time it takes that person to perform the test. "We do the test at the beginning and end of a six-week class," says Caldera, who works for South Central District Health, a nonprofit organization in Twin Falls. "Some class members decrease their time by at least 10 percent."
The "Fit and Fall Proof" program offers half-hour and hour-long classes and has class members use stretchy bands to create resistance in a number of sitting and standing exercises such as leg lifts and bicep curls. Bertha Whitehead, an 88-year-old participant who uses a cane to walk and has a neighbor help her with the class, was skeptical about joining at first. "I was wondering if I really could do the exercises. I think I'm walking better now. I can do the knee bends more easily and get up and down from a chair more easily," she says.
Whatever exercise class a participant chooses, the instructor's approach is key, says Whitehead, who's taken her exercise class for a year. "Our teachers will go out of their way to help someone who's new, and they take people's handicaps into consideration." On top of that, says Whitehead, "I enjoy the class, they're a good bunch of people."
Sources
F. Li, P. Harmer, et al. "Tai Chi and fall reductions in older adults: a randomized controlled trial." Journal of Gerontology Series A, Biological Sciences and Medical Sciences, 2005.
S. S. Lyons. "Fall prevention for older adults." National Guideline Clearinghouse, 2004.