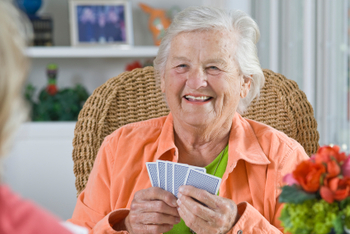 All Rights Reserved
A number of private and family sources might provide support to help pay for adult daycare.
Medicare Advantage (Medicare Part C) plans
If your loved one is enrolled in a Medicare Part C Medicare Advantage plan rather than in traditional Medicare Part A and Part B, the plan might offer limited adult daycare coverage as part of its home care services. The extent of adult daycare a plan covers depends entirely on the plan itself. To learn whether your loved one's particular plan covers adult daycare, and under what terms, look at the plan's written coverage materials or contact the plan directly.
Long-term care insurance
Your loved may have a long-term care insurance policy that includes home care benefits. If he or she qualifies for those benefits because of a physical or mental condition, the policy might pay a daily cash benefit, which your loved one can spend on any form of care, including adult daycare. Also, although some long-term care policies pay home care benefits only to state-licensed home care agencies, these policies often specifically include licensed adult daycare centers in their coverage.
Shared family contributions
You might consider asking family members to share the cost of adult daycare -- even if it's just on an occasional basis, to give you (or whoever is your loved one's primary caregiver) much-needed respite. If you or another family member is spending the time and effort to be the primary caregiver, other family members might see that it's reasonable to pitch in with a little financial support for adult daycare to help give your loved one some time out of the house and to give the primary caregiver a break.
Your local church
Some local churches have adult drop-in programs that don't qualify as certified adult daycare centers but can serve the same purpose (though without the same level of services) -- to provide a safe environment for an adult who needs care, for several hours a day, in order to give primary caregivers a respite. These church programs usually don't charge a fee. Get in touch with the church your loved one attends -- or used to attend when more physically able -- or the church you attend, to see if it has an adult daycare program.
Life insurance or reverse mortgage.
If adult daycare is essential to keeping a loved one at home, and you can't find any other way to pay for it, you might consider cashing in his or her life insurance policy. Or, if your loved one lives in his or her own home, a reverse mortgage might provide a substantial amount of cash that could be used for a combination of paid home care and adult daycare. These are both substantial financial decisions, however, and are usually considered only if there are high in-home costs in addition to adult daycare.
Learn more about other ways to pay for adult daycare.