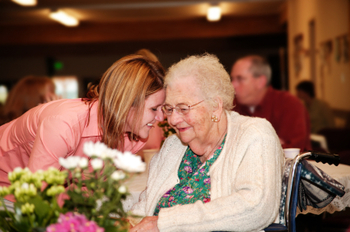 All Rights Reserved
If your loved one has very low income and few assets other than the home he or she lives in, the following benefit programs might pay some or all of long-term nursing home costs.
Medicaid
Depending on the state your loved one lives in and his or her' financial situation, Medicaid nursing home coverage might pay for the full cost of long-term nursing home care. (Medicaid pays the full cost of care for more than half of all long-term nursing home residents in the country.) Qualifying for long-term Medicaid nursing home coverage requires having very low income and few assets.
If one spouse remains at home when the other needs nursing home care, Medicaid allows the at-home spouse to keep the home, as well as a sizeable amount of assets and income. The exact income and asset rules vary somewhat from state to state. Even if your loved one doesn't qualify for Medicaid coverage when first entering a nursing home, he or she may later qualify if and when assets are spent down to the Medicaid eligibility level.
Medicaid can cover nursing home care only in a facility that accepts Medicaid payments. Be aware that not all nursing homes accept Medicaid-pay residents, and others have only a limited number of Medicaid beds.
To find out whether your loved one might be eligible for Medicaid coverage for nursing home care in your state, contact the state's Medicaid agency by going to the online directory for state Medicaid agencies or to your local Area Agency on Aging.
Note: Medicare, unlike Medicaid, does not cover long-term, residential nursing home care. However, Medicare does cover short-term, acute care in a skilled nursing or rehabilitation facility following a hospital stay.
Tip: Get help with Medicaid. For help with questions about Medicaid nursing home coverage, you can get free, expert counseling at a local office of the State Health Insurance Assistance Program (SHIP) or Health Insurance Counseling and Advocacy Program (HICAP).
Veterans
If your loved one is a veteran, the Department of Veterans Affairs (VA) may provide him or her with VA long-term nursing home care. Your loved one is more likely to qualify for VA nursing home care if he or she has a severe disability and/or very low income. The VA operates its own nursing homes and also contracts with some private nursing homes. To find out about enrolling for VA medical benefits and how to receive nursing home care, call the VA at (877) 222-8387, or visit the healthcare pages on the VA website.