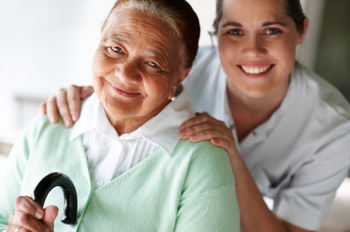 All Rights Reserved
If your loved one is enrolled in Medicare (including a Medicare Advantage Plan or Medicaid, or in the VA healthcare system, one or all of them will pay the full cost -- meaning there are no co-payments -- of home healthcare as long as certain conditions are met.
Medicare
Medicare pays the full cost of covered home healthcare provided by a Medicare-certified agency if prescribed by a treating physician. A different part of Medicare might cover home healthcare in different circumstances, and depending on which part(s) your loved one is enrolled in:
Medicare Part A covers the care if, within the previous 30 days, your loved one has been a hospital inpatient for at least three days.

Medicare Part B covers the care if there's no prior three-day hospital stay.

SEE ALSO: Find In-Home Care Help Near You

If your loved one is enrolled in a Medicare Part C Medicare Advantage plan, instead of traditional Medicare Part A and Part B, the plan will cover home healthcare regardless of a hospital stay but may require that it be provided by a provider/agency that's a part of the plan's network.
Medicare coverage for home healthcare lasts only as long as the physician and home healthcare agency certify that the patient needs regular at-home medical care in order to recover from an injury, surgery, or other acute condition. For more information about Medicare coverage of home healthcare, see Medicare's online booklet Medicare and Home Health Care.
Tip: Help with Medicare Coverage -- For help with any Medicare question regarding home healthcare coverage, you and your loved one can get free, expert counseling at a local office of the State Health Insurance Assistance Program (SHIP) or Health Insurance Counseling and Advocacy Program (HICAP).
Medicaid
If your loved one is enrolled in Medicaid (for people with very low income and few assets other than their home and car), it can cover the full cost of care from a Medicaid-participating home healthcare agency. For people who have both Medicare and Medicaid, the Medicaid program might cover some home healthcare after Medicare coverage stops.
SEE ALSO: Find In-Home Care Help Near You
To find out about Medicaid home healthcare coverage, contact the Medicaid agency in your state by going to the online link to state Medicaid agencies. Or contact the Area Agency on Aging for the region where your loved one lives.
Veterans' healthcare
If your loved one is a veteran, he or she might be enrolled in or eligible for Department of Veterans Affairs (VA) medical care, which includes home healthcare. To find out about enrolling for VA medical benefits, and how to receive home healthcare, call the VA at (877) 222-8387 or visit the healthcare pages on the VA website.
Learn more about other ways to pay for home healthcare.