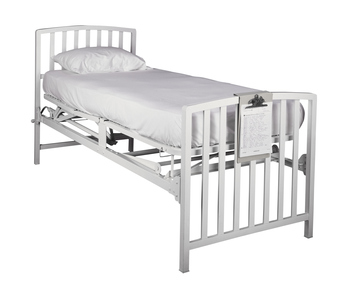 All Rights Reserved
Many older adults of varying health difficulties, not just the critically ill, discover that they enjoy a hospital bed for use at home -- at least once they get past the idea of a "hospital" bed and actually try it out.
Adjustable beds can help your loved one sleep or rest more comfortably. The head and feet can be raised or lowered. Side rails may add peace of mind if you're concerned about falls. The overall height of the bed can be lowered to make it easier to get in and out of. The mattress may be thicker and more supportive than one your loved one has rested on for a decade or more too long. Finally, hospital beds tend to be on wheels and can be transferred from room to room as needed.
Medicare Part B helps pay for a hospital bed if it's considered "medically necessary" and prescribed by a doctor and supplied by a Medicare-approved medical-equipment supplier. Medicare will cover 80 percent of the total.
Your doctor might not prescribe a bed unless you ask first, so don't be shy about bringing it up. Then be sure to ask the place where you plan to rent the bed if it's a "Medicare participating supplier."
Some palliative care and most hospice programs also include hospital beds. Or you may be able to pay for a hospital bed, available through medical equipment companies, with private insurance.