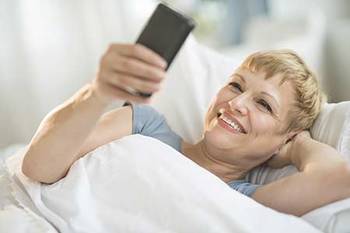 All Rights Reserved
New Year's resolutions. Most of us make them. Most of us don't keep them (for very long). Many caregivers don't want to bother with making resolutions. Why? Because it feels like one more thing to put on the to-do list. And besides, caregiving doesn't leave much time for . . . well, anything but caregiving! Still, we get bombarded with the "woulda, shoulda, couldas," and we wish we had made and kept a resolution or two. Are there resolutions worth making? What would most caregivers want to change?
We've identified five key concerns most caregivers express at one time or another on their care journey. We've also found some great apps for your smartphone or tablet to help you take those first crucial steps toward solutions.
1. I want to spend quality time with my loved one -- before it's too late.
"I wind up spending so much of my time caring for my mom's needs that I hardly ever just sit with her and enjoy her company."
SEE ALSO: Find In-Home Care Help Near You
Believe it or not, this is where a smartphone or tablet can help. Smartphones and tablets have great cameras and video capability. Use them to create a visual diary of your time together. Take a photo every morning -- reading the paper, petting the dog, or sneaking a bite of cookie. Look for moments of humor, quirkiness, or tenderness. Or use the built-in camera's video capability to capture family stories, recipes, or songs. These bite-size videos of just one to two minutes at a time won't overwhelm your loved one, and watching them will allow you to put aside the chores and simply be together.
You might want to try the biggies, such as Google Drive, Facebook, or Snapfish, to share photos; or if you're worried about privacy, give Snapchat a try -- once the photo is viewed, it disappears. You might enjoy playing around with Instagram. It has many filters and other editing options that allow you to add your own flair and share your photos in a community of avid appreciators. If you want to delve into family history, try My Heritage or an Ancestry.com app, which lets you share your stories, photos, and historical finds with other family members.
Photo-sharing apps:
Video apps:
SEE ALSO: Find In-Home Care Help Near You
2. I need a break! Respite.
"I can't tell you the last time I took more than an hour for myself."
Being able to take a few hours -- or days -- of rest and know that your loved one is being cared for is worth resolving to do this year. Manage your caregiving tasks and reach out to family members, church members, and friends and create a "care tribe" around your loved one (and yourself) by communicating on Home Instead's Alzheimer's and Other Dementias Daily Companion app, or manage your busy care schedule with CareZone. These apps will help you list your tasks, coordinate care, update family and friends, and allow you to stay in touch with your home health aides so that you can take a break and also be assured that your loved one is in good hands.
Keeping in touch with family apps:
Home health and management apps:
3. I've got to take some time to address my personal issues of health and finance.
"I've put my work, my relationships, and even my health on hold for too long."
Carving out time for yourself will take some real effort, but there are some great apps to help you with time management, health, and even keeping in touch with your finances.
Check out the apps that help you manage your fitness, your stress, and your health and wellness. You can do most of your banking and financial management online. (Check to see if your bank offers an app for easy deposits, transfers, and online bill payments.) And don't forget that sometimes you don't need to get away as much as you need to get quiet. Try a meditation app such as Mindfulness, or try some yoga and find a few moments of quiet bliss -- right where you are.
Health apps:
Life planning/Happy life apps:
Finance-management apps:
4. As much as it scares me, I need to make a plan for when or if I can no longer provide care.
"Want to know the thing I fear most? If for some reason, whatever reason, I can't care for my love one."
Did you know that most caregivers don't designate an alternate person to continue to care for, or oversee the care of, their loved one? If you haven't, put this at the top of your resolution list. Creating a will that includes the provisions needed to meet your loved one's needs is crucial. If you can, talk with your loved one and ask for his or her input, and if it's not possible, then make the best decision you can.
We found a couple of great books that not only address your legal concerns but also help you give your loved ones the best of you -- your hopes, your values, your legacy.
Books on wills and finances:
5. I need to get some decent shut-eye!
"Even when I can sleep -- I can't. I get up and check on her a dozen times. It's part worry and part bad habit."
Nothing, nothing is more detrimental to your health or your loved one's safety than your sleep. Sleep deprivation is a real problem for many caregivers. Not only will time-management apps help you create a bedtime for yourself, but there are now many great apps designed to help you sleep or monitor your sleep.
For peace of mind, consider a video recording device so that you can check on your loved ones without disturbing them (or getting up to walk throughout the house). To get a good night's sleep, create bedtime rituals for yourself and your loved one. Try to stick to a regular bedtime; give yourself some quiet time to unwind; sleep in a dark, cool room; and consider aromatherapy -- a few drops of lavender essential oil on your pillow can help. Consider a sleep app that monitors your cycles and helps you wake easily, or one that offers soothing white noise. It'll not only drown out ambient noise but it actually helps lull your thoughts. Many have options such as ocean sounds, rain, or thunder that really help bring on the zzz's.
Monitoring devices:
Sleep apps:
Don't be overwhelmed by the world of apps. Smartphones and tablets are easier to use than a standard computer. Apps are simply bite-sized nuggets of information that are easy to manage and intuitive to understand. If you get overwhelmed, just ask anyone under 25 to help -- they'll actually enjoy showing you around the amazing world of apps. Apps can be helpful and even fun, and most are free or relatively inexpensive (99 cents to five dollars, on average). Before you know it, you'll realize that it's March and you're sticking to your resolution.