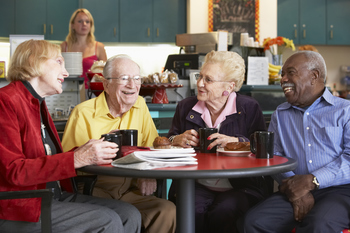 All Rights Reserved
Adjusting to life in an assisted living community can be tough. Downsizing, packing up and saying goodbye to the home you've known for decades is something that most seniors aren't fully prepared for. In assisted living, you'll be surrounded by new neighbors and interacting with staff members who'll become part of your daily life. Instead of always cooking and eating a meal at home, you'll have the option to eat chef-prepared meals served in a communal dining room. Your daily routine may change a little, or transform dramatically.
The transition from uncertain newcomer to comfortable, engaged assisted living resident typically takes about six weeks, says Megan Fletcher, director of client services at Caring.com and a former regional sales manager at Merrill Gardens Senior Living.
For many residents, the move into assisted living is prompted by a medical condition that makes handling activities of daily life alone increasingly difficult. The daily assistance and on-site, round-the-clock access to medically trained staff provided at most communities offers these seniors peace of mind that they wouldn't otherwise have.
And since daily tasks such as cooking and housekeeping are taken care of, residents have a lot more time for themselves. Sure, you could stay in your apartment and skip the many activities, programs and events offered at your assisted living community. But why not make the most of your golden years by taking advantage of all of the perks and amenities your new home has to offer? We asked some senior living industry veterans for their insider tips to help you do just that.
SEE ALSO: Find Assisted Living Near You
1. Put Yourself Out There
Social isolation is a real issue for many seniors, especially for those who live alone or have trouble getting around. One of the biggest advantages assisted living communities provide, aside from care, is a host of opportunities to socialize with people from your peer group. The daily organized activities, classes and events plus gatherings in common areas during mealtimes or downtime provide ample opportunities to form solid social bonds with your neighbors.
Most assisted living communities today also organize outings to local cultural sites, parks, shopping centers and restaurants, giving residents even more chances to get to know one another.
"Outings are important because a lot of residents have stopped driving, but don't want to have to rely on loved ones to take them to places, and to be able to do it with their peer group makes them feel independent," Fletcher says.
During her many years working in assisted living communities, she recalls, she observed many new residents blossom being around people their own age.
SEE ALSO: Find Assisted Living Near You
"You can talk about things with your own peer group that might be hard to talk about with your kids – you might be from different parts of the country and different backgrounds, but you've usually gone through some common experiences," she says.
Fernando Aquino, Director of Sales and Marketing at Fremont Hills in the San Francisco Bay Area, says that at his community, group activities and classes are ideal times to meet new people and bond with fellow residents and staff members.
"Being active with your neighbors and socializing – that's the best medicine seniors can get," Aquino says.
2. Keep your mind sharp
In addition to forming new social bonds with neighbors and staff, most assisted living residents today have access to an array of activities and classes designed to stimulate the mind and teach new skills or subject areas.
Computer and social networking classes are a popular option at many communities, and give residents chances to learn their way around new systems and platforms that help them stay informed, engaged, entertained and in touch with loved ones. (For example, Facebook classes are a hit at some communities).
"An active, engaged, and passionate mind is the key to maintaining brain health," says Dennis Palmer, a spokesman for Seattle area senior living company Era Living. Palmer says the classes offered at Era communities include art instruction, brain fitness and world history, among others.
Some communities offer continuing education classes or guest speakers on more traditional areas of study, such as languages, and many communities organize group discussions about current events.
"Typically, the activities director creates a calendar based on who the residents are and what they like to do, so the options are limitless," says Brennan Hughes, Caring.com's national sales director and former regional director of sales and marketing at Brookdale Senior Living. If your assisted living community doesn't offer a class or activity that you're passionate about, suggest it to your activities director – you could end up starting a trend that interests your neighbors, too.
3. Stay active
Today's assisted living communities are well equipped to help their residents to stay active and fit, regardless of physical impairments. Some fitness classes commonly offered at communities include aqua aerobics, chair yoga, Zumba, tai chi, walking clubs and Wii sports. Many residents may choose to take up a fitness activity they've never tried before.
"Don't discount your loved one from trying something that maybe they've never done before, like tai chi," Fletcher advises adult children whose parents have moved into assisted living.
These options are meant to strengthen muscles and boost heart health, agility and balance. And unlike your average gym, the fitness facilities and classes at assisted living communities are specifically designed with seniors in mind.
4. Have a party
"Entertaining guests at their own home can be a challenge for older adults who need assisted living services," says Palmer. "Getting the house clean and presentable, shopping for food and preparing a meal may be too much work for people who are having health issues."
While assisted living residents can always receive guests in their home, with the conveniences of housekeeping and dining services, they won't have to do much to prep for these visits.
"There are no set 'visiting' hours and most assisted living communities encourage friends and family to come for mealtime with the residents," says Hughes.
If a resident has a special occasion coming up and wants to host a celebration in one of the community's common spaces, it's always a good idea to ask staff about options. Many assisted living communities allow residents to reserve a table in the dining room or a private dining room for these visits, or a larger room for bigger celebrations. Oftentimes, community chefs will already have catering menus ready for these occasions.
"These are culinary-trained chefs, and they love opportunities to be creative," Fletcher says.
--
Many assisted living residents may never have envisioned living in a senior care community. And any prior notions they had of retirement home life probably differ starkly from today's reality – one where seniors can pursue interesting hobbies, form strong social bonds, and enjoy their independence, despite physical impairments. With all of the advantages offered in these communities, residents can focus on making the most of their golden years.