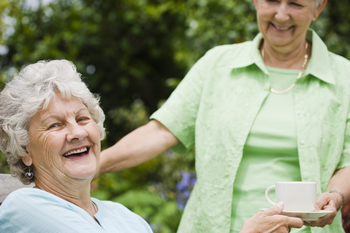 All Rights Reserved
Elder companions are an increasingly common form of help for family caregivers. Mostly unskilled labor, they don't provide nursing care, though they usually assist with some activities of daily living, such as toileting or dressing, and will also do light housekeeping, meal prep, or laundry. What they're really great at: keeping your loved one entertained through conversation, pursuing shared interests (cards, arts and crafts, gardening), and driving your loved one on errands such as getting hair appointments or going to the barber. Your loved one gets important social stimulation -- and you're freed up to tend to other responsibilities and to recharge.
Many local volunteer organizations, including churches and other religious groups and local senior centers, offer programs that match seniors with other seniors. The healthier adult visits the other for meals, card games, conversation, and other social time. You can also find paid elder companions through local home health agencies.
Some older adults readily welcome a hired companion, while others harbor more resistance. Try these approaches to the subject:
Concede your loved one's perspective. Sometimes you can disarm objectives by stating them empathetically: "I know you dislike having people come into the house, but since your surgery, things have changed a little."
SEE ALSO: Find In-Home Care Help Near You
Don't be shy about describing your own needs and shortcomings. Say, "Mom, I wish I could spend every minute with you, but I just can't." Or, "I'll worry less about you on Tuesday and Thursday afternoons if I know you have someone to hang out with while I'm working."'
Tout the benefits your loved one might appreciate most. An elder companion gives you respite, but that doesn't have to be the main benefit you talk up to your loved one. Express that the companion is there to help with housekeeping or to assist your loved one in getting ready in the morning.
Consider calling companion care something else. You know your loved one best. She may like the idea of "a driver" (someone to drive her to appointments) or a "gardening helper" (to putter in the yard with her), for example. If your loved one has dementia, you don't need to let on to what extent the companion is there as an extra set of eyes and ears to keep the person safe. Instead, let your loved one perceive the companion as "someone who wants you to teach him how to play cards" or the person who helps with laundry.
Mention a friend who's using one. Some people decide changes are OK if someone they know and respect is doing the same thing. "Aunt Bessie has someone come in to read aloud to her in the afternoons, since her daughter isn't so good at that." Or, "I heard [Celebrity X] hired someone to play Scrabble with her!"
SEE ALSO: Find In-Home Care Help Near You